Hi PKP Community,
From Madrid, Spain, we're glad to share with you our custom OJS installation: http://www.relacionesinternacionales.info
GitHub: GitHub - relaciones-internacionales-journal/ojs-2-4-2: Previous OJS customization for the academic online spanish journal "Relaciones Internacionales"
We use this great software since 2008 and we've played a lot with the code. Sometimes in a very hard code way, sometimes honoring code purity. Some features:
OJS 2.4.2
Bootstrap 2.3.1 (yup, we have some upgrades to do).
Custom front-end and back-end templates.
Custom icons & images.
Custom CSS, added some CSS3.
Responsive theme.
Two styles theme: black or white defined by the visitor.
Added Google Fonts.
Some JS animations for carousel, easing, etc.
Minified CSS and JS.
Lot's of weird .htaccess rules due to our hosting configuration, outside our control. But they do work.
PICTURES
Homepage desktop white style / Homepage mobile devices white style / Homepage mobile devices black style: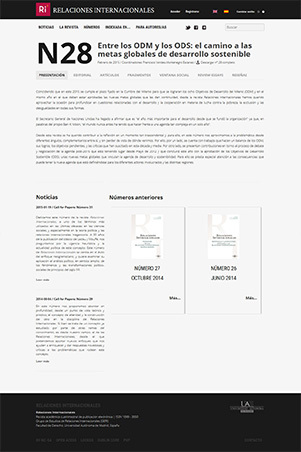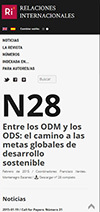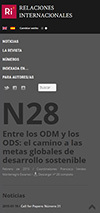 ABOUT THE JOURNAL
Relaciones Internacionales journal was founded in 2004 by a group of students and professors from the International Relations and African Studies doctoral programme at the Autonomous University of Madrid, Spain. It's an electronic publication that seeks to contribute to the study and debate of contemporary issues in International Relations.We provide free and instant access to all content. We believe that allowing free public access to academic investigation supports the open exchange of knowledge.
More info about the team, indexes, etc. can be found at the website.
Thanks a lot to the PKP Team. You rock!