Dear all,
I am still using Ojs 3.1.0.0
So far, everything was fine except from yesterday. I got the error when landing to submission page after login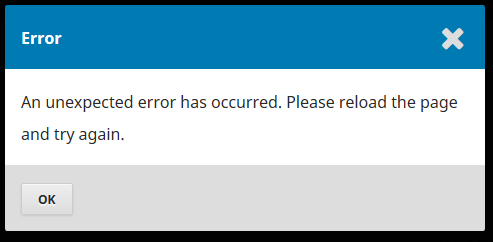 Here is the symptoms
After login, the error comes up. I clicked the OK button 3 times then disappeared. When I clicked other pages e.g. Setting - Website, it logged me out.
I have tried some solutions
About locale setting, the setting is fine as in this thread suggestion OJS dont't display character set in UTF-8 - #13 by asmecher and this [OJS 3.1.0.1] Error in Submission setting area - #18 by Tiziano
Read this Error message when accessing Submissions page - #4 by asmecher
but could not follow what @asmecher suggested
Here is the latest error log
[11-May-2018 00:44:02 UTC] PHP Fatal error:  Call to a member function hasRole() on null in /home/k2542002/public_html/jurnalbeta.ac.id/plugins/generic/citationStyleLanguage/pages/CitationStyleLanguageHandler.inc.php on line 114
[11-May-2018 00:44:32 UTC] PHP Strict Standards:  Declaration of PiwikPlugin::getTemplatePath() should be compatible with Plugin::getTemplatePath($inCore = false) in /home/k2542002/public_html/jurnalbeta.ac.id/plugins/generic/piwik/PiwikPlugin.inc.php on line 0
[11-May-2018 00:44:32 UTC] PHP Strict Standards:  Declaration of OpenAIREDAO::setOAI() should be compatible with PKPOAIDAO::setOAI($oai) in /home/k2542002/public_html/jurnalbeta.ac.id/plugins/generic/openAIRE/OpenAIREDAO.inc.php on line 19
[11-May-2018 00:44:33 UTC] PHP Strict Standards:  Declaration of DRIVERDAO::setOAI() should be compatible with PKPOAIDAO::setOAI($oai) in /home/k2542002/public_html/jurnalbeta.ac.id/plugins/generic/driver/DRIVERDAO.inc.php on line 0
[11-May-2018 00:44:33 UTC] PHP Strict Standards:  Declaration of SubmissionFileDAO::fromRow() should be compatible with PKPSubmissionFileDAO::fromRow($row, $fileImplementation) in /home/k2542002/public_html/jurnalbeta.ac.id/classes/article/SubmissionFileDAO.inc.php on line 23
[11-May-2018 00:44:33 UTC] PHP Fatal error:  Call to a member function hasRole() on null in /home/k2542002/public_html/jurnalbeta.ac.id/plugins/generic/citationStyleLanguage/pages/CitationStyleLanguageHandler.inc.php on line 114
[11-May-2018 00:44:33 UTC] PHP Strict Standards:  Declaration of PiwikPlugin::getTemplatePath() should be compatible with Plugin::getTemplatePath($inCore = false) in /home/k2542002/public_html/jurnalbeta.ac.id/plugins/generic/piwik/PiwikPlugin.inc.php on line 0
[11-May-2018 00:44:33 UTC] PHP Strict Standards:  Declaration of OpenAIREDAO::setOAI() should be compatible with PKPOAIDAO::setOAI($oai) in /home/k2542002/public_html/jurnalbeta.ac.id/plugins/generic/openAIRE/OpenAIREDAO.inc.php on line 19
[11-May-2018 00:44:33 UTC] PHP Strict Standards:  Declaration of DRIVERDAO::setOAI() should be compatible with PKPOAIDAO::setOAI($oai) in /home/k2542002/public_html/jurnalbeta.ac.id/plugins/generic/driver/DRIVERDAO.inc.php on line 0
[11-May-2018 00:44:33 UTC] PHP Strict Standards:  Declaration of SubmissionFileDAO::fromRow() should be compatible with PKPSubmissionFileDAO::fromRow($row, $fileImplementation) in /home/k2542002/public_html/jurnalbeta.ac.id/classes/article/SubmissionFileDAO.inc.php on line 23
[11-May-2018 00:44:33 UTC] PHP Fatal error:  Call to a member function hasRole() on null in /home/k2542002/public_html/jurnalbeta.ac.id/plugins/generic/citationStyleLanguage/pages/CitationStyleLanguageHandler.inc.php on line 114