Hi Everyone;
Good day to all;
App Version: OJS 3.1.1 want to upgrade OJS 3.1.2-1;
The Issue of Upgrading to the latest version due the encounter problem of "Page is not working" and "HTTP Error 500". I put in my mind that need to upgrade our OJS to the latest version. Almost 2 years that I last upgrade the of our OJS.
Our Server is a Go Daddy VPS recently the go daddy suggested to upgrade in the new apache version, but I doubled check the OJS after upgrade no changes at all and no problem encounter. Lately, when our editor submitted the papers to upload in our ojs website, I m very shock when the site is not working with the error "HTTP Error 500". Screenshot see.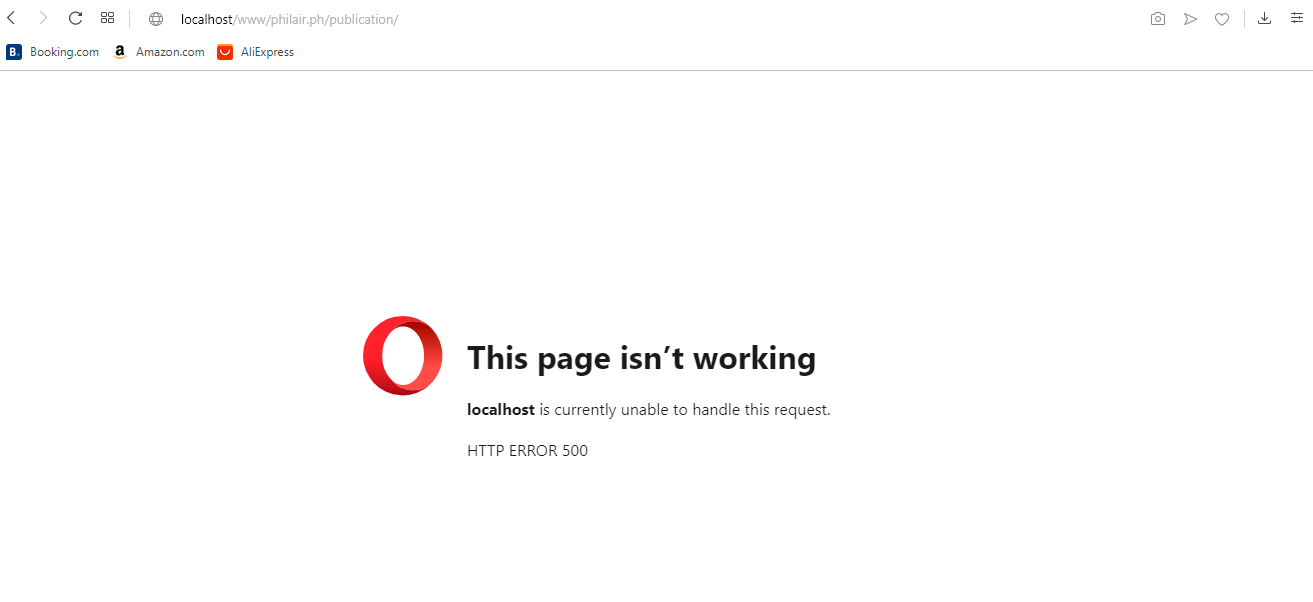 Upgrading the new version using the Shell Xampp and follow this process "php tools\upgrade.php upgrade" but the error. Please check the screenshpt.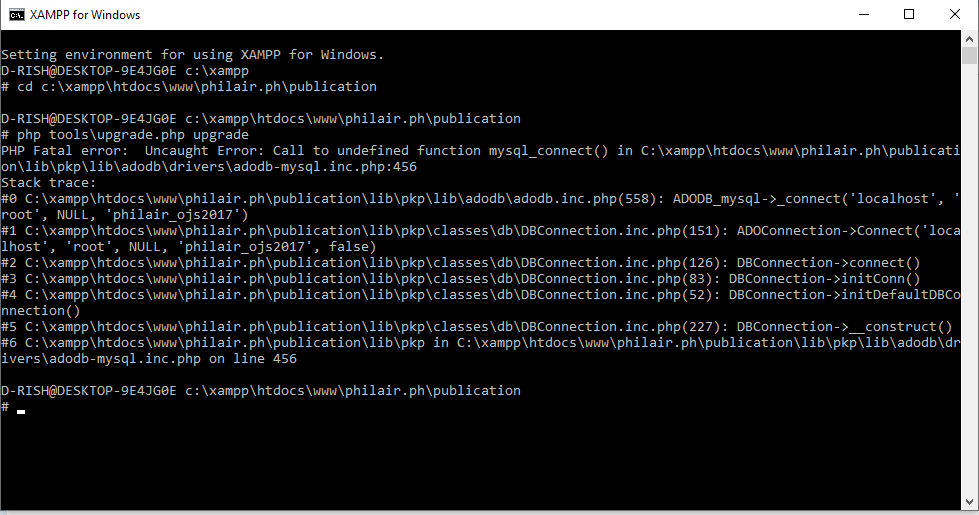 Before, I came here this forum I downloaded the new version and Sql file to the server and transfer the localhost using XAMPP Platform. I follow the instruction how to conduct the processing, backing Up for the seek of not successfull upgrade. But, the error is not solve. I go to first the https://stackoverflow.com for the help and search the solution, watching videos follow the instruction but saddenly the is still here even in my localhost.
I am trying to resolve the HTTP Error 500 and the Upgrade the new Version.
The Error log Message from Server Cpanel:
[31-Jul-2019 04:31:08 UTC] PHP Deprecated: Methods with the same name as their class will not be constructors in a future version of PHP; ADODB_Cache_File has a deprecated constructor in /home/philair/public_html/publication/lib/pkp/lib/adodb/adodb.inc.php on line 263
[31-Jul-2019 04:31:08 UTC] PHP Deprecated: Methods with the same name as their class will not be constructors in a future version of PHP; ADOConnection has a deprecated constructor in /home/philair/public_html/publication/lib/pkp/lib/adodb/adodb.inc.php on line 359
[31-Jul-2019 04:31:08 UTC] PHP Deprecated: Methods with the same name as their class will not be constructors in a future version of PHP; ADORecordSet has a deprecated constructor in /home/philair/public_html/publication/lib/pkp/lib/adodb/adodb.inc.php on line 2921
[31-Jul-2019 04:31:08 UTC] PHP Deprecated: Methods with the same name as their class will not be constructors in a future version of PHP; ADORecordSet_array has a deprecated constructor in /home/philair/public_html/publication/lib/pkp/lib/adodb/adodb.inc.php on line 3939
[31-Jul-2019 04:31:08 UTC] PHP Fatal error: Uncaught Error: Call to undefined function mysql_connect() in /home/philair/public_html/publication/lib/pkp/lib/adodb/drivers/adodb-mysql.inc.php:456
Stack trace:
#0 /home/philair/public_html/publication/lib/pkp/lib/adodb/adodb.inc.php(558): ADODB_mysql->_connect('localhost', 'philair_pojs201…', 'yV]^8!YMGVr', 'philair_ojs2017')
#1 /home/philair/public_html/publication/lib/pkp/classes/db/DBConnection.inc.php(151): ADOConnection->Connect('localhost', 'philair_pojs201…', 'yV]^8!YMGVr', 'philair_ojs2017', false)
#2 /home/philair/public_html/publication/lib/pkp/classes/db/DBConnection.inc.php(126): DBConnection->connect()
#3 /home/philair/public_html/publication/lib/pkp/classes/db/DBConnection.inc.php(83): DBConnection->initConn()
#4 /home/philair/public_html/publication/lib/pkp/classes/db/DBConnection.inc.php(52): DBConnection->initDefaultDBConnection()
#5 /home/philair/public_html/publication/lib/pkp/classes/db/DBConnection.inc.php(227): DBConnection->__construct()
#6 /home/philair/public_html/publication in /home/philair/public_html/publication/lib/pkp/lib/adodb/drivers/adodb-mysql.inc.php on line 456
[31-Jul-2019 04:31:08 UTC] PHP Deprecated: Methods with the same name as their class will not be constructors in a future version of PHP; ADODB_Cache_File has a deprecated constructor in /home/philair/public_html/publication/lib/pkp/lib/adodb/adodb.inc.php on line 263
[31-Jul-2019 04:31:08 UTC] PHP Deprecated: Methods with the same name as their class will not be constructors in a future version of PHP; ADOConnection has a deprecated constructor in /home/philair/public_html/publication/lib/pkp/lib/adodb/adodb.inc.php on line 359
[31-Jul-2019 04:31:08 UTC] PHP Deprecated: Methods with the same name as their class will not be constructors in a future version of PHP; ADORecordSet has a deprecated constructor in /home/philair/public_html/publication/lib/pkp/lib/adodb/adodb.inc.php on line 2921
[31-Jul-2019 04:31:08 UTC] PHP Deprecated: Methods with the same name as their class will not be constructors in a future version of PHP; ADORecordSet_array has a deprecated constructor in /home/philair/public_html/publication/lib/pkp/lib/adodb/adodb.inc.php on line 3939
[31-Jul-2019 04:31:08 UTC] PHP Fatal error: Uncaught Error: Call to undefined function mysql_connect() in /home/philair/public_html/publication/lib/pkp/lib/adodb/drivers/adodb-mysql.inc.php:456
etc…