Hi,
We are running OJS 3.3.0.7 and enabled eLife Lens Article Viewer. I used Pandoc to convert docx file to both PDF and Jats XML:
#pandoc --standalone -p -f docx -t jats -o article.xml input.docx
I uploaded them to our test instance. When I click on the Jats xml file, I get an endless spinning symbol like image below. I have checked OJS's php_errors.log, php.ini, and apache logfile. The pdf file displays fine.
So, is there anything I am missing or doing wrong. Any other additional plugin(s) to install or enable?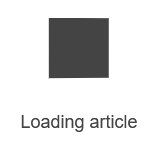 Cheers
Obi