I everybody.
I want to show an option only to the site administrator. In ojs 2.4.x y get administrator site with
$templateMgr->assign('AdministradorMaster', $roleDao->userHasRole(0, $user->getId(), ROLE_ID_SITE_ADMIN))
later y check variable $AdministradorMaster for show or hide option in template.
I need to do the same in OJS 3. but I don found tpl file for modify. please Can you tell me what is the tpl file that is usually part of this part so I can modify it?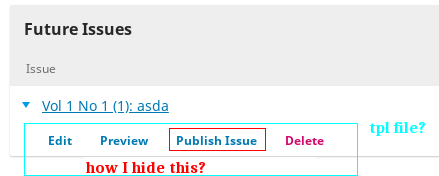 Regards
Cristian