Hello,
I am trying fresh install the newer version on my localhost.
I am using windows10/ XAMPP/ APACHE 2.4.34/ PHP 7.2.8/ phpMyAdmin 4.8.2.
During the installation everything goes fine, even database is populated. But after the first login as admin I can only see the OJS logo with administration link, nothing else in the page gets loaded. Image attached.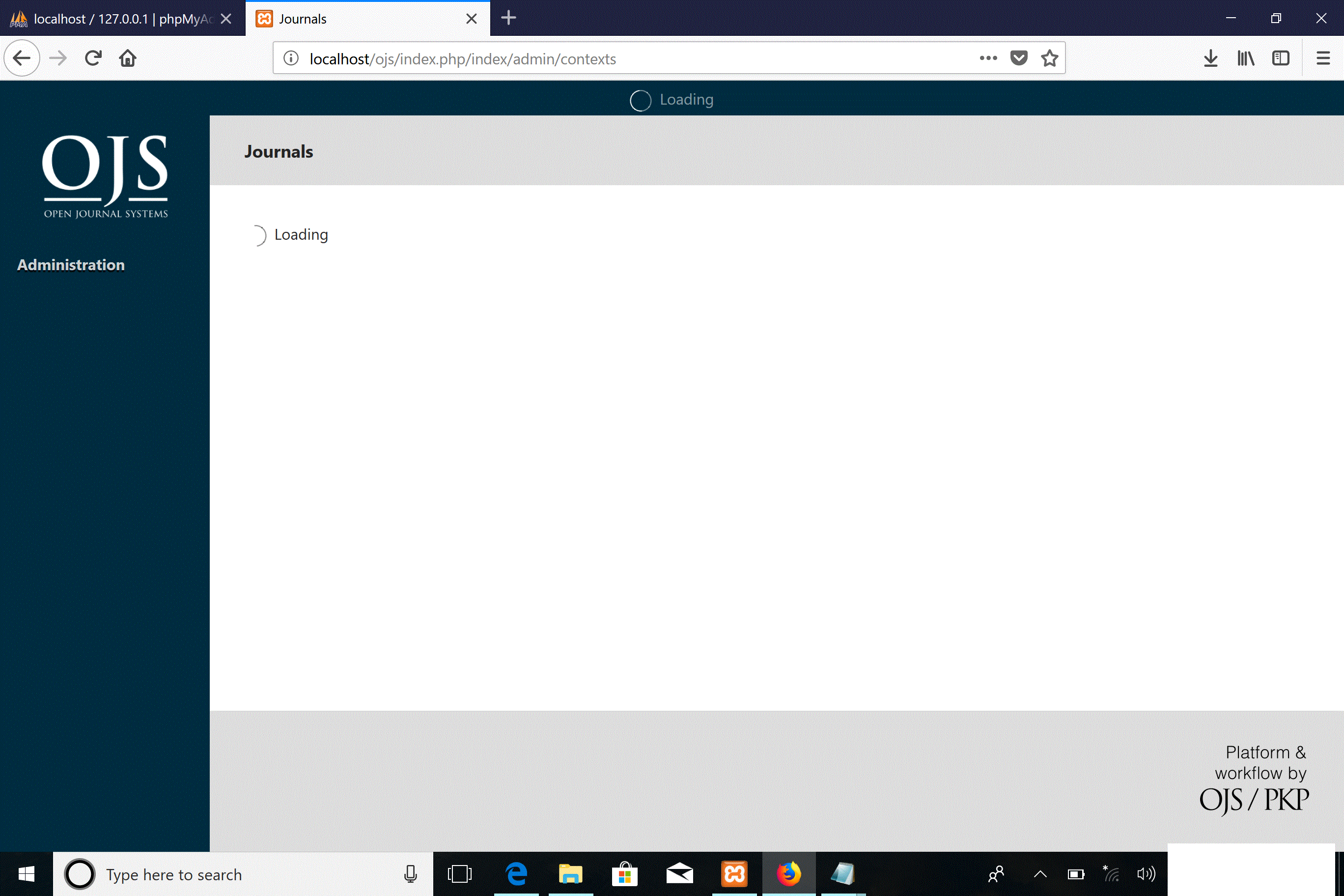 Got same results with EasyPHP / IE / Firefox
error log is given below.
---
\xampp\htdocs\ojs\lib\pkp\plugins\generic\usageEvent\PKPUsageEventPlugin.inc.php on line 386
[Fri Aug 17 15:34:32.139157 2018] [php7:warn] [pid 2256:tid 1932] [client ::1:51634] PHP Warning: Declaration of InstallHandler::validate($request) should be compatible with PKPHandler::validate($requiredContexts = NULL, $request = NULL) in C:\xampp\htdocs\ojs\lib\pkp\pages\install\InstallHandler.inc.php on line 118
[Fri Aug 17 15:34:36.599832 2018] [php7:warn] [pid 2256:tid 1916] [client ::1:51636] PHP Warning: Declaration of PKPUsageEventPlugin::getEnabled() should be compatible with LazyLoadPlugin::getEnabled($contextId = NULL) in C:\xampp\htdocs\ojs\lib\pkp\plugins\generic\usageEvent\PKPUsageEventPlugin.inc.php on line 386, referer: http://localhost/ojs/index.php/index/install/install
[Fri Aug 17 15:38:18.199312 2018] [php7:warn] [pid 2256:tid 1916] [client ::1:51640] PHP Warning: Declaration of PKPUsageEventPlugin::getEnabled() should be compatible with LazyLoadPlugin::getEnabled($contextId = NULL) in C:\xampp\htdocs\ojs\lib\pkp\plugins\generic\usageEvent\PKPUsageEventPlugin.inc.php on line 386
[Fri Aug 17 15:38:18.231303 2018] [php7:warn] [pid 2256:tid 1916] [client ::1:51640] PHP Warning: Declaration of InstallHandler::validate($request) should be compatible with PKPHandler::validate($requiredContexts = NULL, $request = NULL) in C:\xampp\htdocs\ojs\lib\pkp\pages\install\InstallHandler.inc.php on line 118
[Fri Aug 17 15:40:10.605066 2018] [php7:warn] [pid 2256:tid 1916] [client ::1:51642] PHP Warning: Declaration of PKPUsageEventPlugin::getEnabled() should be compatible with LazyLoadPlugin::getEnabled($contextId = NULL) in C:\xampp\htdocs\ojs\lib\pkp\plugins\generic\usageEvent\PKPUsageEventPlugin.inc.php on line 386, referer: http://localhost/ojs/index.php/index/install/install
[Fri Aug 17 15:40:10.621041 2018] [php7:warn] [pid 2256:tid 1916] [client ::1:51642] PHP Warning: Declaration of InstallHandler::validate($request) should be compatible with PKPHandler::validate($requiredContexts = NULL, $request = NULL) in C:\xampp\htdocs\ojs\lib\pkp\pages\install\InstallHandler.inc.php on line 118, referer: http://localhost/ojs/index.php/index/install/install
[Fri Aug 17 15:40:36.294167 2018] [php7:warn] [pid 2256:tid 1932] [client ::1:51645] PHP Warning: Declaration of PKPUsageEventPlugin::getEnabled() should be compatible with LazyLoadPlugin::getEnabled($contextId = NULL) in C:\xampp\htdocs\ojs\lib\pkp\plugins\generic\usageEvent\PKPUsageEventPlugin.inc.php on line 386, referer: http://localhost/ojs/index.php/index/install/install
[Fri Aug 17 15:40:41.313856 2018] [php7:warn] [pid 2256:tid 1932] [client ::1:51645] PHP Warning: Declaration of PKPUsageEventPlugin::getEnabled() should be compatible with LazyLoadPlugin::getEnabled($contextId = NULL) in C:\xampp\htdocs\ojs\lib\pkp\plugins\generic\usageEvent\PKPUsageEventPlugin.inc.php on line 386, referer: http://localhost/ojs/index.php/index/install/install
[Fri Aug 17 15:40:45.026042 2018] [php7:warn] [pid 2256:tid 1916] [client ::1:51649] PHP Warning: Declaration of PKPUsageEventPlugin::getEnabled() should be compatible with LazyLoadPlugin::getEnabled($contextId = NULL) in C:\xampp\htdocs\ojs\lib\pkp\plugins\generic\usageEvent\PKPUsageEventPlugin.inc.php on line 386, referer: http://localhost/ojs/index.php/index/login
[Fri Aug 17 15:40:55.370140 2018] [php7:warn] [pid 2256:tid 1916] [client ::1:51653] PHP Warning: Declaration of PKPUsageEventPlugin::getEnabled() should be compatible with LazyLoadPlugin::getEnabled($contextId = NULL) in C:\xampp\htdocs\ojs\lib\pkp\plugins\generic\usageEvent\PKPUsageEventPlugin.inc.php on line 386, referer: http://localhost/ojs/index.php/index/login
[Fri Aug 17 15:40:55.805306 2018] [php7:warn] [pid 2256:tid 1916] [client ::1:51653] PHP Warning: Declaration of PKPUsageEventPlugin::getEnabled() should be compatible with LazyLoadPlugin::getEnabled($contextId = NULL) in C:\xampp\htdocs\ojs\lib\pkp\plugins\generic\usageEvent\PKPUsageEventPlugin.inc.php on line 386, referer: http://localhost/ojs/index.php/index/login
[Fri Aug 17 15:40:56.218768 2018] [php7:warn] [pid 2256:tid 1916] [client ::1:51653] PHP Warning: Declaration of PKPUsageEventPlugin::getEnabled() should be compatible with LazyLoadPlugin::getEnabled($contextId = NULL) in C:\xampp\htdocs\ojs\lib\pkp\plugins\generic\usageEvent\PKPUsageEventPlugin.inc.php on line 386, referer: http://localhost/ojs/index.php/index/login
[Fri Aug 17 15:41:06.821546 2018] [php7:warn] [pid 2256:tid 1940] [client ::1:51659] PHP Warning: Declaration of PKPUsageEventPlugin::getEnabled() should be compatible with LazyLoadPlugin::getEnabled($contextId = NULL) in C:\xampp\htdocs\ojs\lib\pkp\plugins\generic\usageEvent\PKPUsageEventPlugin.inc.php on line 386, referer: http://localhost/ojs/index.php/index/admin/contexts
[Fri Aug 17 15:41:11.402286 2018] [php7:warn] [pid 2256:tid 1940] [client ::1:51659] PHP Warning: Declaration of PKPUsageEventPlugin::getEnabled() should be compatible with LazyLoadPlugin::getEnabled($contextId = NULL) in C:\xampp\htdocs\ojs\lib\pkp\plugins\generic\usageEvent\PKPUsageEventPlugin.inc.php on line 386, referer: http://localhost/ojs/index.php/index/admin/index
[Fri Aug 17 15:41:11.742395 2018] [php7:warn] [pid 2256:tid 1916] [client ::1:51661] PHP Warning: Declaration of PKPUsageEventPlugin::getEnabled() should be compatible with LazyLoadPlugin::getEnabled($contextId = NULL) in C:\xampp\htdocs\ojs\lib\pkp\plugins\generic\usageEvent\PKPUsageEventPlugin.inc.php on line 386, referer: http://localhost/ojs/index.php/index/admin/contexts
Solution please.
Robin