In Montreal we had a brief chat concerning preprints in OJS3 together with @jmacgreg and the folks from Crossref. This is my suggestion on how to add a preprints feature to OJS3.
Note that this is not the same thing as having a continuous publishing model, but should be probably considered together with it.
---
What are preprints?
Publishing article manuscripts before the editorial process has finished and outside the normal issue publication. This could be:
immediately after submission
when the submission is received by the editor (editor assigned)
after peer-review
after copy-editing
Usually it means publishing the manuscript before peer-review: https://peerj.com/about/preprints/what-is-a-preprint/
Adding preprints in OJS3
A fast and simple solution: add a new files grid to the Submission stage of the workflow. The grid would work like the Galleys grid in the production stage.
If you add a file(s) to the Preprints grid, it will tell the system that a preprint of the article is available.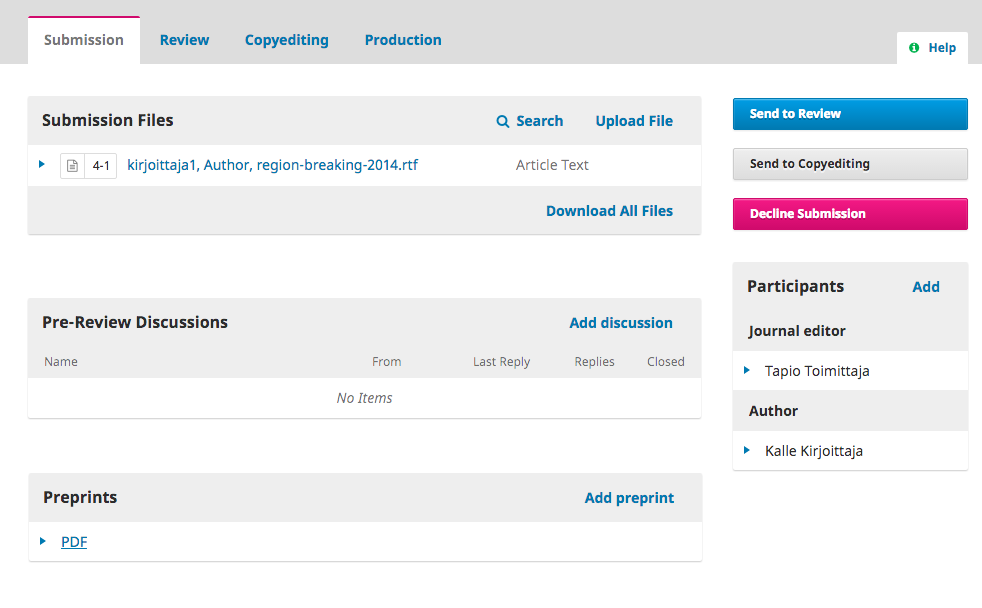 Showing preprints in OJS3
A preprint of an article will be visible if the following are true:
a) There are files available in the Preprints grid
b) The article has not been published yet
There should be two views/handlers:
Preprints page for the journal. This will list all preprints for the given context.
Preprints page for the site. This will list all preprints for the whole site.
The abstract page of a preprint should be different from the published article. It should make clear that it is not a published article.
Question: DOIs for preprints? How? Linking DOIs together? Preprints are go at Crossref! - Crossref
Question: this could be done with versioning as well, but the problem is that the UI for versioning is now contained in the production tab - not in the stage before review?