Good day everyone!
Who knows why the contacts section does not have information in other languages?

Hi @Aznur,
So, when you click on the Russian or Kazakh locales they are still coming up in English? You don't happen to have the defaultTranslation plugin installed do you? This plugin may make it so that it defaults to a particular translation (mainly English) in the event that other locales are not available.
-Roger
PKP Team
The plugin is already installed. But still there is no column to write in another language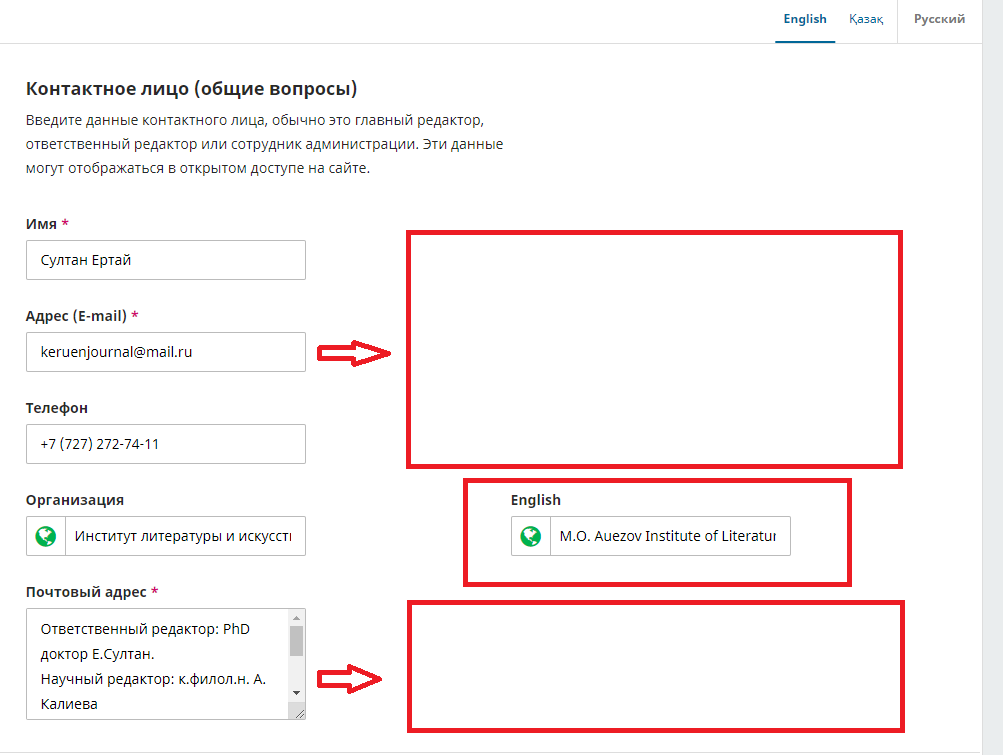 Hi @Aznur,
Thank you for the screenshot.
One thing I thought you could try: if you go to "Edit Profile" for your account - on the top far right (the person icon), and then go to the "Contact" tab and scroll down a little ways to where you see "Working Languages" - what do you see there, are Russian and Kazakh both enabled?
-Roger
PKP Team
Good day! Yes, I tried as you said. But it did not help
Hi @Aznur,
Hmm… I'm really not sure what more to suggest here - I'm not entirely sure what the issue would be. However, some of our other staff or community members may wish to weigh in on this post.
-Roger
PKP Team
Hi @Aznur,
The "affiliation" field is the only multilingual field in the contact section. The rest do not have any language information stored for them and will be the same no matter what the set language is.
Regards,
Erik
PKP Team