Impatient to see the new versions and already seen already installed, but unfortunately not fully tried yet because of some errors.
Here is quickly my first experience with OJS3 in a nutshel:
After loging in as admin, I try to 'create a journal', by providing a Journal title, Journal description and a path. Then, I click "Save", but the system freezes and nothing happens even after long minutes of waiting.
When I click on the Administration link (at left), a page with 'Site Administration' label appears.
In this page, I see "Site Management" under which "Hosted Journal" appear.
When I click on this (Hosted Journals link), I see only the path's name of the journal I have already created after logging in as an admin. The field of the Journal's title appears empty beside a blue arrow, though I have provided the title and description in the first step of the journal creation page.
Then, I click on the small blue arrow, supposedly pointing to the journal name, and I see three options:
Edit, Remove and Settings wizard.
I first selected "Edit", and then, the page of 'Create Journal' appears again, but this time without the text toolbox that seemingly disappeared at this stage.
I fill again again the same info as previously (journal title and description), and click 'Save' again, and the journal name now appears alongside the path.
Then, when I click on the option "Settings wizard", nothing happens but a Loading circle that turns permanently and an error message poping up with the following error:
The page at localhost says:
The current role does not have access to this operation.
Prevent this page from creating additional dialog.
When I click on "View Site" on the top right, near the admin login, I have a new deformed page that appears as follow with the supposedly journal elements but stacked on the top left: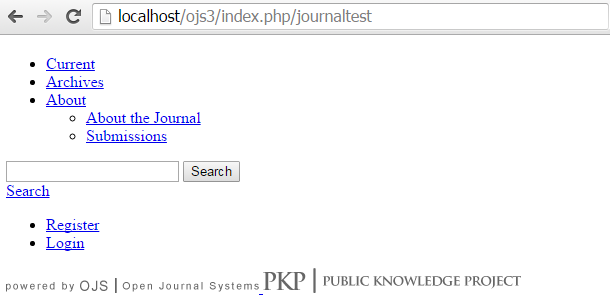 This does not look like a journal page.
This is all what I could see/test so far, after installation. I hope this would help fixing these errors. Unfortunately, I couldn't go further than these few steps. I'll try again later to see if I could go to other steps.
Thank you again for your efforts.
Regards