Dear all,
Some threads discussed about this issue, e.g. HTML tag allowed, HTML purifier filters "target" atribute, or HTML tags not displayed OJS 3.0.2 - #7 by vvucic. However, the problem exist.
In Ojs 3.1.1, the fontawesomes are working fine in template with li, a, or span tags. But they are 'purified' in TinyMCE editors. I tried the following
The result is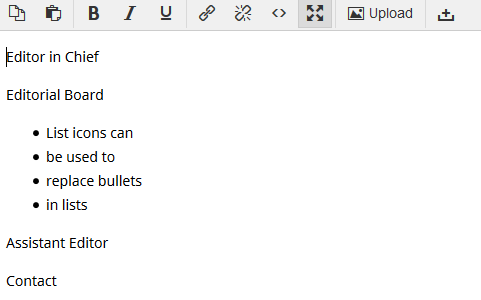 Regarding the tags i, a, li, span, class; they are in allowed html in config.inc
allowed_html = "a[href|target|title],em,strong,cite,code,ul,ol,li[class],dl,dt,dd,b,i,u,img[src|alt],sup,sub,br,p"
Any ideas to solve the issue? or those tags are intentionally 'purified' in TinyMCE to prevent any danger issues for Ojs?
Thanks a lot