Recently when I add reviewers to an submission, it just reads "Loading". what's the matter and how can I do?
Hi @Sherryy
Infinite "loading" messages are usually server side errors. Please check your error logs for detailed messages.
Cheers,
Jason
Hi Jason,
Thanks for your kind reply. Here are the screenshots of existed questions below. The reviewers cannot be added. Could you please tell me what can I do?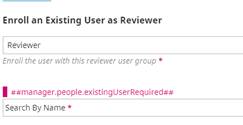 Hi @Sherryy
If you're just setting the word "loading" all the time, you need to have your systems administrator look in the web server error logs for the message that is being logged when you view that screen. It'll tell you where to look.
Cheers,
Hi Jason,
We don't have system administrator, could you please help me check this?
Kind regards,
Sherry
Hi @Sherryy
This isn't something I can help you with - you'll need to to find out from whoever is hosting your journal how you can access your server logs. I wouldn't have access to that, unfortunately.
Regards,
Jason