There are three years we use OJS version 2.4.8.0 without problems. However, recently a few bugs have appeared. One of them is the following:
The Journal Manager profile is able to access, edit profile and even execute users duties, through the function "Login as" in the users list. I was always able to access any user profile. Recently, this chenged. I am now able to access like 10% of the users profile, and for all the others I get this message when trying to login as the user:
Sorry, you do not have administrative rights over this user. This may be because:
The user is a site administrator
The user is active in journals you do not manage
This task must be performed by a site administrator.
The two reasons for access denial to the user profile does not make sense. The users are authors, reviewers and section editors, not site administrators. And all users with access denied to their profile are active in the journal.
My first question: Does anyone know what may have caused this instability in the function and how to fix the problem?
Furthermore, we are trying the upgrade from version 2.4.8.0 to 3.2.1-2 and the DB was imported from the old version. The same problem is happening in the new version.
My second question: Will it be necessary to solve the problem in the the old version, thus updating the DB, and then importing the DB to an upgrade installation?
In the old version, the link to the function "Log in as" is displayed: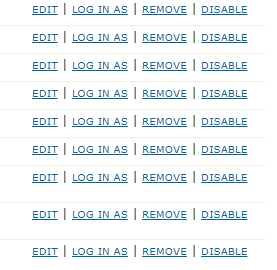 But in the version 3.2.1-2 it is not even displayed:


I will appreciate any help.