Dear all,
Something strange happened tonight when I was upgrading our two OJS-installations.
The first one worked just fine, but at the second installation something went wrong.
All labels on the systeminfo-page were gone and not all information visable.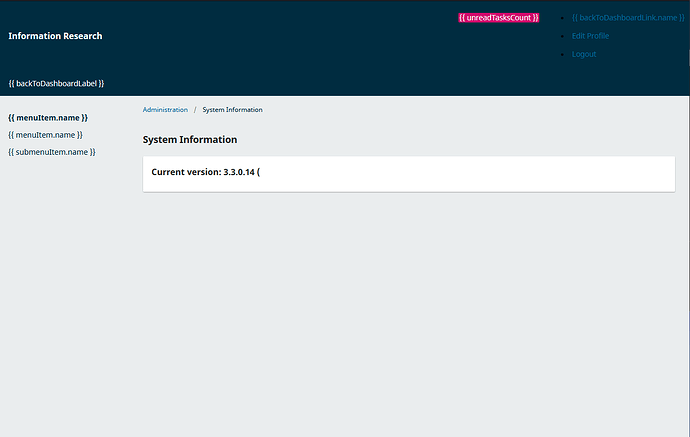 This is how it looks.
The only thing I can think of is that the server with the errorous installation is running newer versions of PHP, MySQL and Ubuntu:
PHP 8.1.2-1ubuntu2.11
Ubuntu Server 22.04.2 LTS
mysql Ver 8.0.32-0ubuntu0.22.04.2 for Linux on x86_64 ((Ubuntu))
(informationr.net)
The server that went well is running
PHP 7.4.3-4ubuntu2.18
Ubuntu Server 20.04.5 LTS.
mysql Ver 15.1 Distrib 10.3.38-MariaDB, for debian-linux-gnu (x86_64) using readline 5.2
(journals.hb.se)
I had the same problem actually on a test server, so i've seen it before with the same version of OJS. Can't access this server right now, so I can't share versions of the software, but I think it is running Ubuntu 22.04.5 LTS as well.
Otherwise the installations are identical, since we just recently migrated the installation to split up our journals. The migration went fine.
I have reverted the installation to the previous version via a backup. How shall I proceed to upgrade without problems? Anyone encountered the same problem?
Best regards,
Tobias Carlsson