Describe the issue or problem
Please tell us what happens and what you expected to happen.
when i open a browser directed to ojs, it says,
Fatal error : Uncaught → Smarty: unable to write file /var/www/html/cache/t_compile/wrt63232fdf467111_12164032 ← thrown in /var/www/html/lib/pkp/lib/vendor/smarty/smarty/libs/sysplugins/smarty_internal_runtime_writefile.php on line 60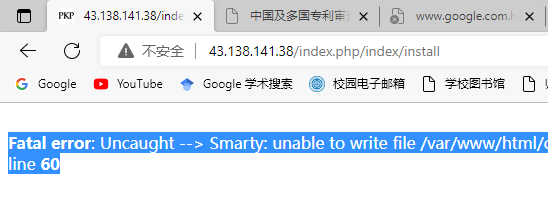 what should i do.
Steps I took leading up to the issue
For example:
Go to http://43.138.141.38/
See error
What application are you using?
ojs-3.3.0-11
PHP 7.4.19 (cli) (built: May 4 2021 11:06:37) ( NTS )
Server version: Apache/2.4.37 (centos)
mysql Ver 8.0.26 for Linux on x86_64 (Source distribution)
Centos 8
Additional information
Please add any screenshots, logs or other information we can use to investigate this problem.


i have wasted almost 1 month (from 19-aug to 15-sep.) on installing ojs, but failed. so sad about this. anyone can help?