En alguna ocasión nos pasa que cuando vamos a modificar un artículo no nos deja ya que nos dice que hay un error, el cual no nos especifica y no nos deja modificarlo.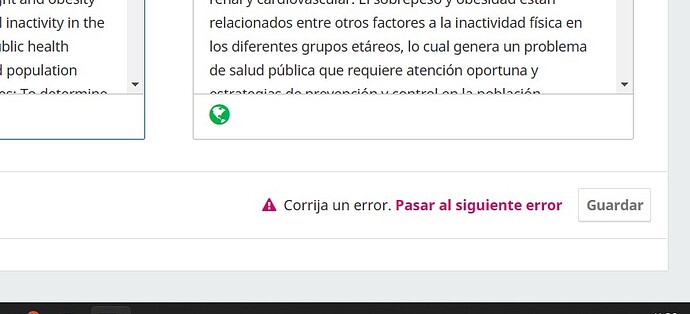 Tal error realmente no existe, porque por ejemplo en un artículo ya guardado o publicado, queremos quitarle una palabra en el título y nos dice que no puede guardarlo corregido porque existe este error, cuando ya lo había guardado con anterioridad la plataforma con una palabra de más.
Hemos probado a ver si era un problema de permisos y tampoco. Quisiéramos saber cual es el problema, ya que no nos ocurre siempre y la solución que encontramos no es la mas apropiada, ya que hay que crear nuevamente el artículo, perdiendo la trayectoria real, comentarios, etc que guarda el original / In some occasion it happens to us that when we are going to modify an article it does not let us since it says to us that there is an error, which does not specify to us and it does not let us modify it.
Such an error does not really exist, because for example in an article already saved or published, we want to remove a word in the title and it tells us that it cannot save it corrected because there is this error, when the platform had already saved it previously with one word too many.
We have tried to see if it was a permissions problem and neither. We would like to know what the problem is, since it does not always happen to us and the solution we found is not the most appropriate, since we have to create the article again, losing the real path, comments, etc. that the original saves.
Si alguien pudiera ayudarme se lo agradecería / If someone could help me I would appreciate it.
Un saludo/ Best regards
Ana