Estimados señores:/ Dear Sirs,
Hemos actualizado la planilla predeterminada que tienen en el correo llamada "Nuevo número publicado…" / We have updated the default template that you have in the mail called "New number published…"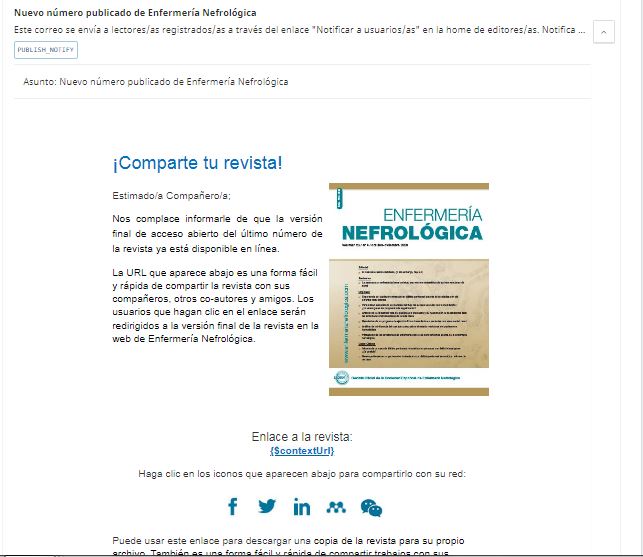 Cuando vamos y enviamos el e-mail de la publicación/When we go and send the email of the publication.
Nos llega este otro "Nueva notificación desde Enfermería Nefrológica"/ We get this other one "New notification from Enfermería Nefrológica".

Intentamos cambiar el contenido en esta nueva plantilla, pero no podemos ya que la misma se envía con cualquier notificación y no sólo con la de Publicación / We tried to change the content in this new template, but we can't because the template is sent with any notification and not only with the Publication notification.
Vease


Creo que ambos e-mail son esta plantilla de correo:/I think both emails are this email template: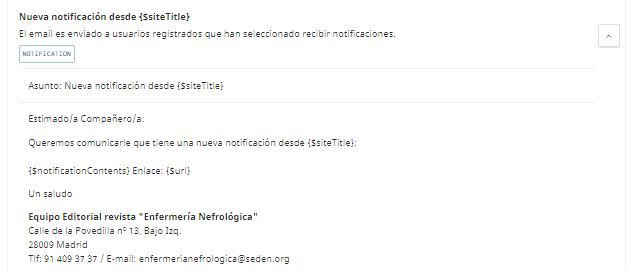 Por lo que quisiera que me informaran como puedo hacer que cuando se publique una revista llegue la plantilla que tienen para ello "Nuevo número publicado…", o me indiquen si tengo que enviarlos desde otro sitio. / So I would like you to inform me how I can do that when a magazine is published arrives the template you have for it "New issue published…", or tell me if I have to send them from another site.
Un saludo / Best Regards