Describe the problem you would like to solve
When the Journal Editors must assign a Section Editor to a submission, they can't know how many active submissions any SE currently have.
(I'm using 3.3.0-6. A similar feature was included in 2.4 version, but then it was lost in 3.x)
Describe the solution you'd like
I'd like to have a list similar to the Reviewers' one, with a label that show the SE's amount of active assignment. The "currently assigned" feature shows the workload of each editors and it suggests to the JE who can work on the last paper.
I wish to have the following result (unfortunately it's just photoshopped in the picture).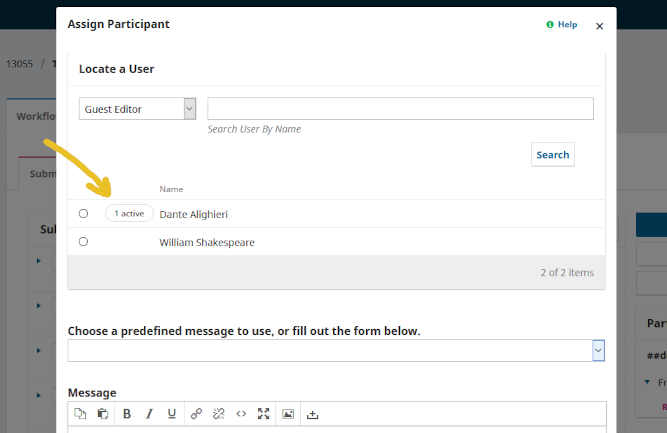 Who is asking for this feature?
Some Journal Editors of ours asked me that improvement, because a journal could have many section editors, and tracking the work of any of them could be very difficult.
Additional information
I see two ways to reach my goal without an excessive effort.
(1) We could use the same structure used for the reviewer assignment; something like $currentlyAssigned in AdvancedSearchReviewerForm.inc.php, but I didn't understand where it takes the data.
(2) We could simulate the same result of "Assigned to editor" filter in the dashboard, but I suspect it's the long way.
Using the "Assigned to editor" filter in the dashboard is not a real solution. If a journal has for example twelve SE, the JE should do twelve researches on the dashboard, taking a note of the workloads of each SE. It's not easy nor quick.
Some hints for this issue? I will very appreciate any comments on it.