Everything looks ok. What error do you get?
I am sorry! Now, it ok. I don't know, what happened but it's working now.
Hi @a-vodka ,
I use Open Journal Systems 3.1.2.4 and when install this plugin receive in error.log:
[09-Jan-2020 11:36:18 Europe/Belgrade] PHP Fatal error: Uncaught --> Smarty: undefined extension class 'Smarty_Internal_Method_Assign_By_Ref' <–
thrown in /home/ijcadsee/public_html/lib/pkp/lib/vendor/smarty/smarty/libs/sysplugins/smarty_internal_undefined.php on line 62
Before apply this plugin error.log was empty.
Any idea or new plugin for IC plugin?
Thanks,
Lazar
Hello, @Lazar_Stosic
Could you please specify how you install Copernicus plugin. Thank you.
Hi @a-vodka ,
First downloaded plugin from this post. Via cPanel upload it in plugin/importexport end extract it there. ZIP plugin was deleted after extraction. When I tried to use this plugin under the Tools I received an empty web page with errors in error.log
Thanks in advance.
Lazar
Hi @a-vodka,
I used it above plugin. Now received:
and a lot of same rows in error.log when click Extract
[17-Jan-2020 14:01:13 Europe/Belgrade] PHP Warning: rawurlencode() expects parameter 1 to be string, array given in /home/ijcadsee/public_html/lib/pkp/classes/core/PKPPageRouter.inc.php on line 256
By the way, nothing happened after click on Extract button.
Ok, I'll try to fix this. Please, tell me, what version of PHP do yo have?
@a-vodka is this plugin also for OJS version 3.1.1.4 as well and if yes please let me know which tar.gz file i will install in plug-in gallery to export for Index Copernicus because i already installed Copernicus Export Plugin but not exporting in xsd file.
Please guide.
@a-vodka I installed plugin from this link
https://github.com/a-vodka/ojs_copernicus_export_plugin/releases/download/0.0.4/copernicus-ojs3-0.0.4.tar.gz
that you mention in your post after installation when i export my issue this error generated

Please guide
Hello i need help with it. The plugin to OJS 3.2.0-3 is available now? Thanks!!!
Hi, we are using Open Journal Systems 2.4.8.3. Where can I download the final updated Copernicus plugin for OJS 2.4.8.3?
Thanks
I am using OJS 3.2. I installed the plug-in at https://github.com/a-vodka/ojs_copernicus_export_plugin.
However, when I give the export command, I get the following error http://journals.gen.tr/index.php/arts/management/importexport/plugin/CopernicusExportPlugin. I would be glad if you help.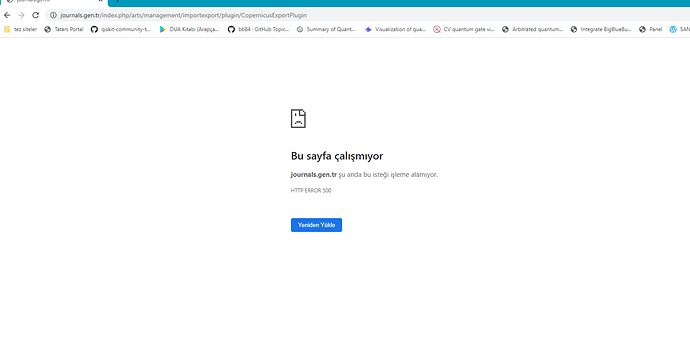 Dear @cyasar,
This plugin still does not support OJS 3.2. I hope new release will be soon
Hi @a-vodka
I am using OJS 3.2.0.3 and in great need of plugin for data submission to Index corpenicus. Please update the plugin as the last date for submission of data to corpenicus is ending very soon. It will be of great help
Thanks a lot in advance
Thank you so much. You did a great job. It works in our system.
http://journals.gen.tr/