Version: 3.2.0-1
Issue description:
On clean installation, after I make any changes in the settings (for example upload custom style sheet) or change the theme color, I get the following error: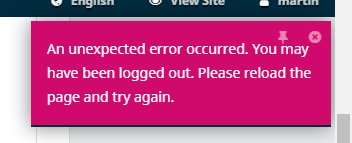 An unexpected error occurred. You may have been logged out. Please reload the page and try again.
My error log is immediately after installing the app full of warnings, most common one being "PHP Warning: Creating default object from empty value".
Is anyone else experiencing the same issues? Is there some solution available to it?
Thanks,
Martin