Hello everyone. Can you help me with this updating problems?
The OJS was updated from 2.4.3 version to 3.0.2 version. The migration process finished successfully and the PDF files are displayed properly. However, none of the images in HTML articles are displayed, generating an error with the "File not found"message.
Besides. In Front end, issues, PDF and HTML files match. But there is something weird in some articles. Clicking the title in Table of contents we can see the correct metadescription, authors, references, etc but as if it belonged to another publication.
For example the image below belongs to issue 108, Vol. 37, Issue. 1 (2015) but in top and right side shows issue 46. Vol. 19 Issue 2 (1997) It doesn´t make any sense, in old version everything worked perfect.
The other hand. In the image below, left side belongs to Front end of the website, with the correct table of Contents; right side of the image belongs to the dashboard, showing the same issue, with differents table of contents. Is crazy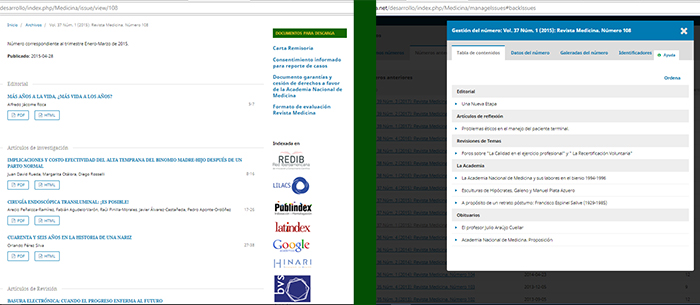 URL is: Development link