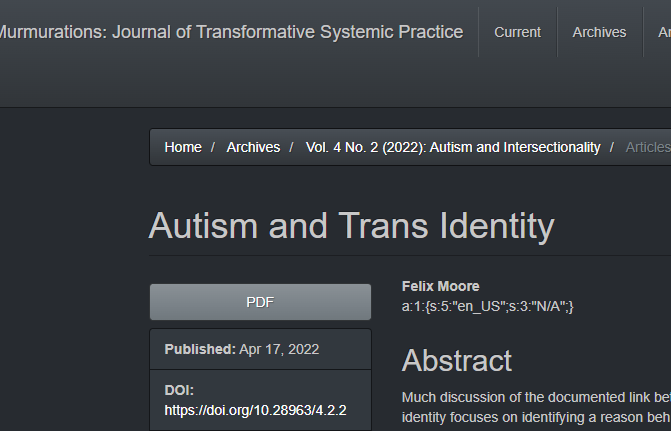 strange characters under author's names in this issue.
currently using OJS 3.3.0.7.
Hi @gail,
Strange …
I think this is where the affiliation is - it is possible it was copied and pasted in a different encoding and that caused it to not display correctly. You could possibly correct this by checking the Contributor information (go to the Publication - Contributors - Edit [underneath the relevant contributors name])
Also: as per your previous post - I take it that you were able to get your site working again?
-Roger
PKP Team

Hi Roger, I have looked at the user details and there is no affiliation listed. Nor is there in the different metadata for the article under Publication.
murmurations.cloud
My guess is you developed your own theme and in the template you are showing a serialized array instead of the proper value.
Check if with the developer that did the job.
Cheers,
m.
No, that's not the case. We use Bootstrap and have not done anything different since last issue. None of previous issues had this problem.
Then it could be a compatibility issue with the bootstrap theme on last OJS versions (if I remember well, it's not full compliant with 3.3.x).
First we need to identify what is the field that is going wrong.
Do you mind to check metadata associated with any of the authors that fail?
For instance… where in the Fran Urbistondo's form talk about "Lenticular Futures"?
https://murmurations.cloud/ojs/index.php/murmurations/article/view/167
Cheers,
m.
Good question, Marc, because I don't see the answer to this. I checked the user details and there is no mention of Lenticular Futures or affilliation. Also there is nothing mentioned in any metadata such as supporting agency.
This topic was automatically closed after 7 days. New replies are no longer allowed.