Hello everyone,
I'm having some problems with the OJS 3.1.1-2. I updated successfully in the last weak, but these problems began to happen. Here's the system information: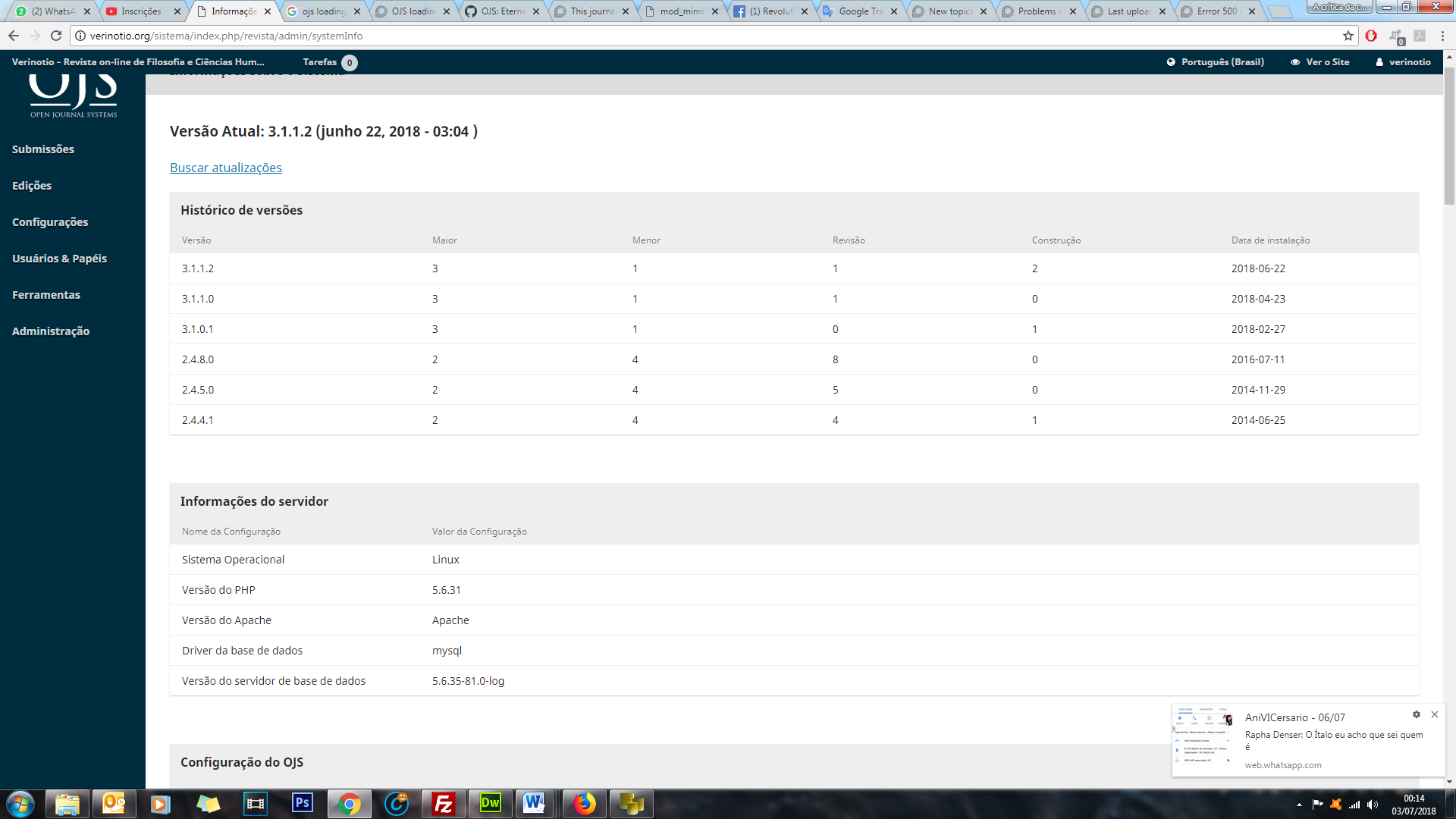 First, when I try to accept a submission, the load remains forever and nothing happens. This also happens when I try to designate editors.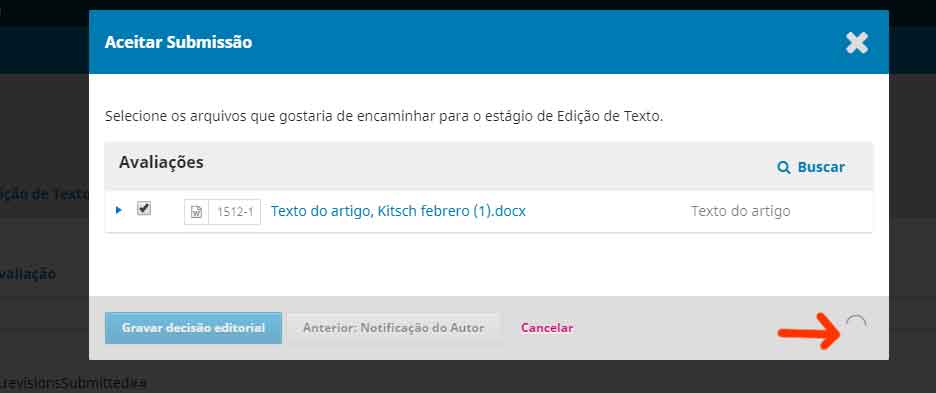 And when I try to access the QuickSubmitPlugin plugin, error 500 appears and I can not get it to work at all.
This is the PHP error log:
[Tue Jul 03 00:16:46 2018] [error] [client 189.54.146.153] PHP Deprecated: Automatically populating $HTTP_RAW_POST_DATA is deprecated and will be removed in a future version. To avoid this warning set 'always_populate_raw_post_data' to '-1' in php.ini and use the php://input stream instead. in Unknown on line 0, referer: http://verinotio.org/sistema/index.php/revista/workflow/index/658/3
[Tue Jul 03 00:16:52 2018] [error] [client 189.54.146.153] PHP Deprecated: Non-static method PKPRequest::getUserVar() should not be called statically, assuming $this from incompatible context in /home/storage/e/0e/bd/verinotio/public_html/sistema/lib/pkp/classes/form/Form.inc.php on line 369, referer: http://verinotio.org/sistema/index.php/revista/workflow/index/658/3
[Tue Jul 03 00:16:52 2018] [error] [client 189.54.146.153] PHP Deprecated: Non-static method PKPRequest::_checkThis() should not be called statically, assuming $this from incompatible context in /home/storage/e/0e/bd/verinotio/public_html/sistema/lib/pkp/classes/core/PKPRequest.inc.php on line 592, referer: http://verinotio.org/sistema/index.php/revista/workflow/index/658/3
[Tue Jul 03 00:17:04 2018] [error] [client 189.54.146.153] PHP Deprecated: Non-static method PKPRequest::getUserVar() should not be called statically, assuming $this from incompatible context in /home/storage/e/0e/bd/verinotio/public_html/sistema/lib/pkp/classes/form/Form.inc.php on line 388, referer: http://verinotio.org/sistema/index.php/revista/workflow/index/658/3
[Tue Jul 03 00:17:04 2018] [error] [client 189.54.146.153] PHP Deprecated: Non-static method PKPRequest::_checkThis() should not be called statically, assuming $this from incompatible context in /home/storage/e/0e/bd/verinotio/public_html/sistema/lib/pkp/classes/core/PKPRequest.inc.php on line 592, referer: http://verinotio.org/sistema/index.php/revista/workflow/index/658/3
[Tue Jul 03 00:17:04 2018] [error] [client 189.54.146.153] PHP Deprecated: Non-static method PKPRequest::getUserVar() should not be called statically, assuming $this from incompatible context in /home/storage/e/0e/bd/verinotio/public_html/sistema/lib/pkp/classes/form/Form.inc.php on line 388, referer: http://verinotio.org/sistema/index.php/revista/workflow/index/658/3
[Tue Jul 03 00:17:04 2018] [error] [client 189.54.146.153] PHP Deprecated: Non-static method PKPRequest::_checkThis() should not be called statically, assuming $this from incompatible context in /home/storage/e/0e/bd/verinotio/public_html/sistema/lib/pkp/classes/core/PKPRequest.inc.php on line 592, referer: http://verinotio.org/sistema/index.php/revista/workflow/index/658/3
[Tue Jul 03 00:17:04 2018] [error] [client 189.54.146.153] PHP Deprecated: Non-static method PKPRequest::getUserVar() should not be called statically, assuming $this from incompatible context in /home/storage/e/0e/bd/verinotio/public_html/sistema/lib/pkp/classes/form/Form.inc.php on line 388, referer: http://verinotio.org/sistema/index.php/revista/workflow/index/658/3
[Tue Jul 03 00:17:04 2018] [error] [client 189.54.146.153] PHP Deprecated: Non-static method PKPRequest::_checkThis() should not be called statically, assuming $this from incompatible context in /home/storage/e/0e/bd/verinotio/public_html/sistema/lib/pkp/classes/core/PKPRequest.inc.php on line 592, referer: http://verinotio.org/sistema/index.php/revista/workflow/index/658/3
[Tue Jul 03 00:17:04 2018] [error] [client 189.54.146.153] PHP Deprecated: Non-static method PKPRequest::getUserVar() should not be called statically, assuming $this from incompatible context in /home/storage/e/0e/bd/verinotio/public_html/sistema/lib/pkp/classes/form/Form.inc.php on line 388, referer: http://verinotio.org/sistema/index.php/revista/workflow/index/658/3
[Tue Jul 03 00:17:04 2018] [error] [client 189.54.146.153] PHP Deprecated: Non-static method PKPRequest::_checkThis() should not be called statically, assuming $this from incompatible context in /home/storage/e/0e/bd/verinotio/public_html/sistema/lib/pkp/classes/core/PKPRequest.inc.php on line 592, referer: http://verinotio.org/sistema/index.php/revista/workflow/index/658/3
[Tue Jul 03 00:17:04 2018] [error] [client 189.54.146.153] PHP Deprecated: Non-static method PKPRequest::getUserVar() should not be called statically, assuming $this from incompatible context in /home/storage/e/0e/bd/verinotio/public_html/sistema/lib/pkp/classes/form/Form.inc.php on line 388, referer: http://verinotio.org/sistema/index.php/revista/workflow/index/658/3
[Tue Jul 03 00:17:04 2018] [error] [client 189.54.146.153] PHP Deprecated: Non-static method PKPRequest::_checkThis() should not be called statically, assuming $this from incompatible context in /home/storage/e/0e/bd/verinotio/public_html/sistema/lib/pkp/classes/core/PKPRequest.inc.php on line 592, referer: http://verinotio.org/sistema/index.php/revista/workflow/index/658/3
[Tue Jul 03 00:17:04 2018] [error] [client 189.54.146.153] PHP Deprecated: Non-static method PKPRequest::getUserVar() should not be called statically, assuming $this from incompatible context in /home/storage/e/0e/bd/verinotio/public_html/sistema/lib/pkp/classes/form/Form.inc.php on line 388, referer: http://verinotio.org/sistema/index.php/revista/workflow/index/658/3
[Tue Jul 03 00:17:04 2018] [error] [client 189.54.146.153] PHP Deprecated: Non-static method PKPRequest::_checkThis() should not be called statically, assuming $this from incompatible context in /home/storage/e/0e/bd/verinotio/public_html/sistema/lib/pkp/classes/core/PKPRequest.inc.php on line 592, referer: http://verinotio.org/sistema/index.php/revista/workflow/index/658/3
[Tue Jul 03 00:17:04 2018] [error] [client 189.54.146.153] PHP Deprecated: Non-static method PKPRequest::isPost() should not be called statically, assuming $this from incompatible context in /home/storage/e/0e/bd/verinotio/public_html/sistema/lib/pkp/classes/form/validation/FormValidatorPost.inc.php on line 38, referer: http://verinotio.org/sistema/index.php/revista/workflow/index/658/3
[Tue Jul 03 00:17:04 2018] [error] [client 189.54.146.153] PHP Deprecated: Non-static method PKPRequest::_checkThis() should not be called statically, assuming $this from incompatible context in /home/storage/e/0e/bd/verinotio/public_html/sistema/lib/pkp/classes/core/PKPRequest.inc.php on line 396, referer: http://verinotio.org/sistema/index.php/revista/workflow/index/658/3
[Tue Jul 03 00:18:07 2018] [error] [client 189.12.187.69] mod_mime_magic: invalid type 0 in mconvert()., referer: PDF.js viewer
[Tue Jul 03 00:18:07 2018] [error] [client 189.12.187.69] mod_mime_magic: invalid type 0 in mconvert()., referer: PDF.js viewer
[Tue Jul 03 00:21:48 2018] [error] [client 189.54.146.153] PHP Deprecated: Non-static method PKPRequest::getUserVar() should not be called statically, assuming $this from incompatible context in /home/storage/e/0e/bd/verinotio/public_html/sistema/lib/pkp/classes/form/Form.inc.php on line 369, referer: http://verinotio.org/sistema/index.php/revista/management/tools
[Tue Jul 03 00:21:48 2018] [error] [client 189.54.146.153] PHP Deprecated: Non-static method PKPRequest::_checkThis() should not be called statically, assuming $this from incompatible context in /home/storage/e/0e/bd/verinotio/public_html/sistema/lib/pkp/classes/core/PKPRequest.inc.php on line 592, referer: http://verinotio.org/sistema/index.php/revista/management/tools
Tks,
Roger F. Silva