I've upgraded an OJS 3.1.2-4 to 3.3.0-6. In the process I've searched through this forum as probably there was an unsuccessful upgrade without restoring the database before a second attempt. In short, I've deleted some tables that does not exist in 3.2.0 and then upgraded to 3.2.0 → 3.2.1 (here I had to delete some rows with "delete from email_log where assoc_id is null;") → 3.3.0-6.
The last "php tools/upgrade.php upgrade" returned "Successfully upgraded to version 3.3.0.6".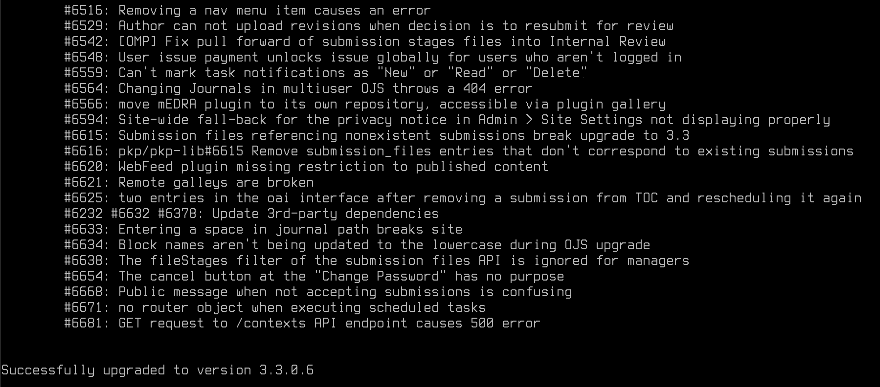 Now, under System Information I have the Notice: Undefined variable: latestVersionInfo in /mypath/ojs-3.3.0-6/lib/pkp/pages/admin/AdminHandler.inc.php on line 361
Another issue is that I'm not able to modify the portal settings. It gives an "Unexpected error has occurred. Please reload the page and try again".

I've turned debug = on and display_errors = On without any luck on finding this out.
This is a test upgrade, so I can redo everything without any issue.
Any hints on how to figure this out (I'se searched here but didn't find anything).
TIA,
Ricardo.