Tengo tres problemas con este campo:/I have three problems with this field:
1.- Normalmente el contenido del campo se ve correctamente cuando lo mandan los autores pero en algunas situaciones nos llega sí y no se a que se debe ni como corregirlo/1.- Normally the content of the field is seen correctly when the authors send it but in some situations it arrives yes and I don't know why and how to correct it.



2.- No exporta la afiliación de los campos de afiliación correctamente y en el mismo trabajo unos los exporta y otros no y no se que se debe para exportarlos. Como ejemplo os pongo que pido un informe a la base dialnet que nos recolecta y nos sale que un determinado trabajo no ha exportado bien todos los campos de afiliación, nos entramos en el artículo para completarlos y si están los datos. No sabemos que es lo que pasa y como solucionarlo/It does not export the affiliation of the affiliation fields correctly and in the same work some of them are exported and others are not and I do not know how to export them. As an example, I ask for a report to the dialnet base that collects us and we get that a certain work has not exported well all the affiliation fields, we enter in the article to complete them and if the data are there. We do not know what is happening and how to solve it.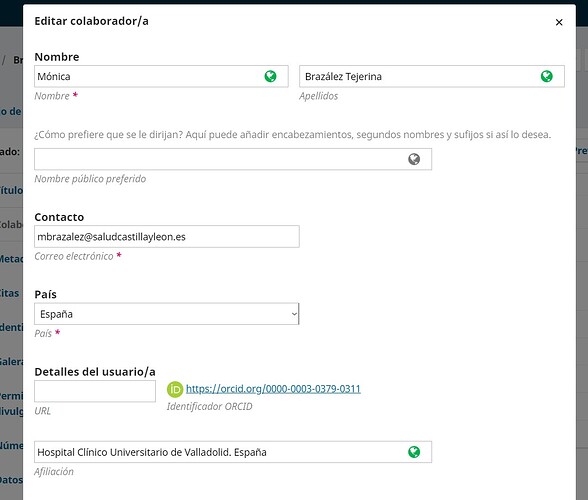 3.- No se exportan los campos de filiación a Crossref. Me hablaron de un plugin ROR para su exportación pero lo probé y tampoco me iba con lo cual lo desistale./I was told about a ROR plugin for exporting but I tried it and it didn't work either so I uninstalled it.
Si alguien pudiera ayudarme lo agradecería/If someone could help me I would appreciate it
Un saledo/Best regards