I have seen several forum topics about problems with the PKP PLN plugin, but I have encountered a problem that seems to be different than the normal problems that people have asked about.
I work for a private university and we run several journals from a single server, https://revistas.upeu.edu.pe/
When I log in as an administrator, I am greeted by a screen full of these messages saying "Notification There was an error connecting to the PKP PLN - please contact your system administrator."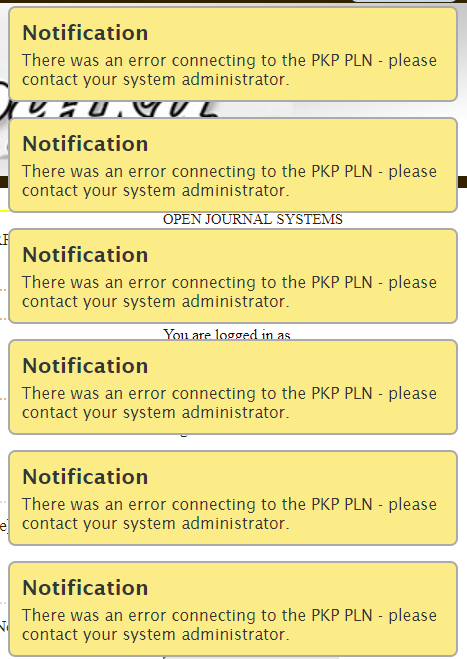 Most of our journals have gotten stuck in a common problem, where the Local Status shows Transferred by the Processing Status and LOCKSS Status show Unknown, as seen below for one of our journals:
For one of our journals, I tried testing something - I tried clicking on the Reset button for every issue to see if it would resend correctly. That was a couple weeks ago. Ever since, I have been bombarded by those Notifications every time I log in, and the Status page shows Local Status New, PRocessing Status and LOCKSS Status Unknown, as seen below: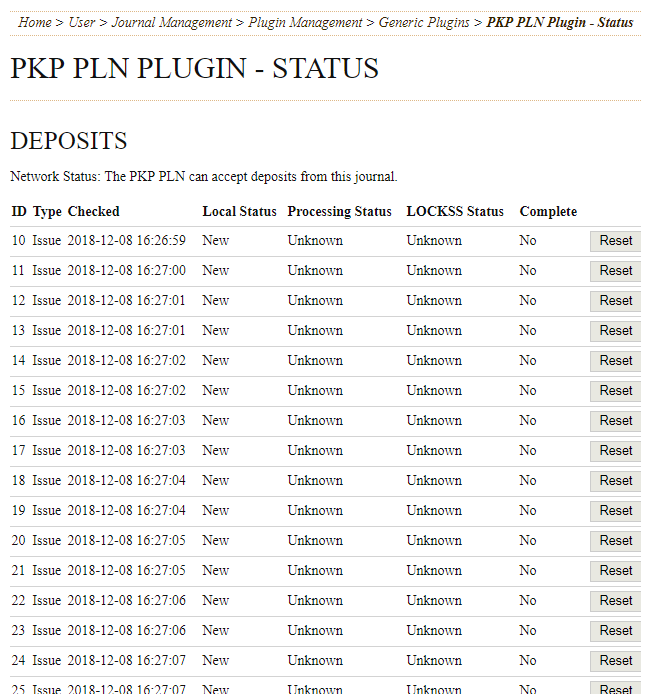 I found this topic PKP PLN Status Question - #26 by esciencepress and checked to make sure we have Archive_Tar and yes, it is there. I also checked the version of PHP and it is much newer than 5.3.0 (I think it was 5.7 or 5.8, I don't have access to it right at the moment) so that ruled out another possible problem. I also found the topic PKP PLN - Items not being deposited - #26 by mjoyce and checked config.inc.php to make sure base_url was set up correctly, and it seems to be, I think it pointed to the main page of https://revistas.upeu.edu.pe/
I have hit a wall and I am not sure what to try next. Any ideas would be greatly appreciated. Thanks.