Hi,
Where can I find the statistic panel in ojs3?
OJS 2 statistic panel: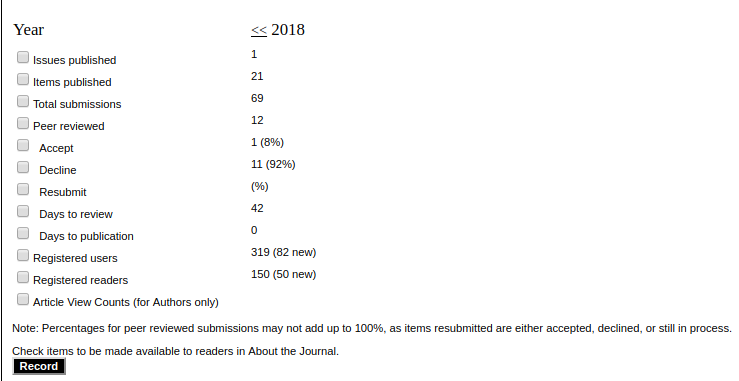 Regards,
Tarcisio Pereira
As far as I know there is no such functionality in the OJS 3 - the out of the box possibility to show statistics on the public OJS page.
Regards, Primož
hi @primozs
Thank you, I'll take a look.
Regards,
Tarcisio Pereira
Hi @primozs
Where can I enable this feature? I was unable to find it.
Regards,
Tarcisio Pereira.
I arrive late to the conversation, but the question was still valid.
The point is OJS 3.2 (that will be released this month) will include some improvements related with statistics as described here:
https://github.com/pkp/pkp-lib/issues/4844
They don't match exactly with OJS 2, but the information will be good enough to apply to most common repos/harvesters/indexes/whatever.