Dear all,
I am using OJS 3.1.2.1 and I have several journals with different domains.
I have
restful_urls = On
setting on.
I have modified the apache conf files so that the api uri:s should be converted in the correct way. However, when trying to change the parameters on the article statistics page:
https://mydomain.com/stats/publishedSubmissions
I get the "unexpected error" message, and a 404 error in the Development tools in my browser: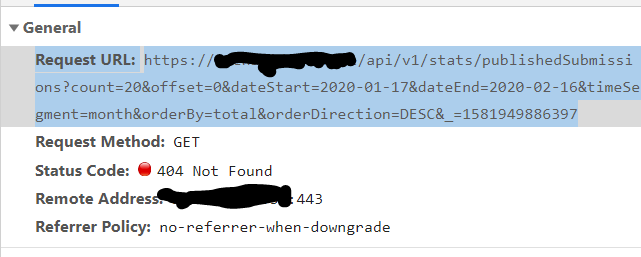 The error-log from the server (below) show that the mod_rewrite is doing what it should (see second last row below), but why does the browser trying to access the link without actually changing it from
myjournal.com/api/v1....
to
myjournal.com/index.php/myjournal/api/v1....
?
[Mon Feb 17 15:31:31.032383 2020] [rewrite:trace3] [pid 21887] mod_rewrite.c(470): [client xxxx:30398] xxxx - - [myjournal.com/sid#55aa108220f0][rid#55aa10adee00/initial] [perdir /var/www/html/journal/] strip per-dir prefix: /var/www/html/journal/api/v1/stats/publishedSubmissions -> api/v1/stats/publishedSubmissions, referer: https://myjournal.com/stats/publishedSubmissions
[Mon Feb 17 15:31:31.032425 2020] [rewrite:trace3] [pid 21887] mod_rewrite.c(470): [client xxxx:30398] xxxx - - [myjournal.com/sid#55aa108220f0][rid#55aa10adee00/initial] [perdir /var/www/html/journal/] applying pattern '^(.*)$' to uri 'api/v1/stats/publishedSubmissions', referer: https://myjournal.com/stats/publishedSubmissions
[Mon Feb 17 15:31:31.032448 2020] [rewrite:trace4] [pid 21887] mod_rewrite.c(470): [client xxxx:30398] xxxx - - [myjournal.com/sid#55aa108220f0][rid#55aa10adee00/initial] [perdir /var/www/html/journal/] RewriteCond: input='/api/v1/stats/publishedSubmissions' pattern='/index.php$' => not-matched, referer: https://myjournal.com/stats/publishedSubmissions
[Mon Feb 17 15:31:31.032460 2020] [rewrite:trace3] [pid 21887] mod_rewrite.c(470): [client xxxx:30398] xxxx - - [myjournal.com/sid#55aa108220f0][rid#55aa10adee00/initial] [perdir /var/www/html/journal/] strip per-dir prefix: /var/www/html/journal/api/v1/stats/publishedSubmissions -> api/v1/stats/publishedSubmissions, referer: https://myjournal.com/stats/publishedSubmissions
[Mon Feb 17 15:31:31.032470 2020] [rewrite:trace3] [pid 21887] mod_rewrite.c(470): [client xxxx:30398] xxxx - - [myjournal.com/sid#55aa108220f0][rid#55aa10adee00/initial] [perdir /var/www/html/journal/] applying pattern '^(.*)$' to uri 'api/v1/stats/publishedSubmissions', referer: https://myjournal.com/stats/publishedSubmissions
[Mon Feb 17 15:31:31.032484 2020] [rewrite:trace4] [pid 21887] mod_rewrite.c(470): [client xxxx:30398] xxxx - - [myjournal.com/sid#55aa108220f0][rid#55aa10adee00/initial] [perdir /var/www/html/journal/] RewriteCond: input='/api/v1/stats/publishedSubmissions' pattern='!/index.php' => matched, referer: https://myjournal.com/stats/publishedSubmissions
[Mon Feb 17 15:31:31.032515 2020] [rewrite:trace4] [pid 21887] mod_rewrite.c(470): [client xxxx:30398] xxxx - - [myjournal.com/sid#55aa108220f0][rid#55aa10adee00/initial] [perdir /var/www/html/journal/] RewriteCond: input='/api/v1/stats/publishedSubmissions' pattern='!/myjournal/' => matched, referer: https://myjournal.com/stats/publishedSubmissions
[Mon Feb 17 15:31:31.032535 2020] [rewrite:trace4] [pid 21887] mod_rewrite.c(470): [client xxxx:30398] xxxx - - [myjournal.com/sid#55aa108220f0][rid#55aa10adee00/initial] [perdir /var/www/html/journal/] RewriteCond: input='/var/www/html/journal/api/v1/stats/publishedSubmissions' pattern='!-f' => matched, referer: https://myjournal.com/stats/publishedSubmissions
[Mon Feb 17 15:31:31.032546 2020] [rewrite:trace2] [pid 21887] mod_rewrite.c(470): [client xxxx:30398] xxxx - - [myjournal.com/sid#55aa108220f0][rid#55aa10adee00/initial] [perdir /var/www/html/journal/] rewrite 'api/v1/stats/publishedSubmissions' -> 'index.php/myjournal/api/v1/stats/publishedSubmissions', referer: https://myjournal.com/stats/publishedSubmissions
[Mon Feb 17 15:31:31.032557 2020] [rewrite:trace3] [pid 21887] mod_rewrite.c(470): [client xxxx:30398] xxxx - - [myjournal.com/sid#55aa108220f0][rid#55aa10adee00/initial] [perdir /var/www/html/journal/] add per-dir prefix: index.php/myjournal/api/v1/stats/publishedSubmissions -> /var/www/html/journal/index.php/myjournal/api/v1/stats/publishedSubmissions, referer: https://myjournal.com/stats/publishedSubmissions
[Mon Feb 17 15:31:31.032570 2020] [rewrite:trace2] [pid 21887] mod_rewrite.c(470): [client xxxx:30398] xxxx - - [myjournal.com/sid#55aa108220f0][rid#55aa10adee00/initial] [perdir /var/www/html/journal/] trying to replace prefix /var/www/html/journal/ with /, referer: https://myjournal.com/stats/publishedSubmissions
[Mon Feb 17 15:31:31.032581 2020] [rewrite:trace5] [pid 21887] mod_rewrite.c(470): [client xxxx:30398] xxxx - - [myjournal.com/sid#55aa108220f0][rid#55aa10adee00/initial] strip matching prefix: /var/www/html/journal/index.php/myjournal/api/v1/stats/publishedSubmissions -> index.php/myjournal/api/v1/stats/publishedSubmissions, referer: https://myjournal.com/stats/publishedSubmissions
[Mon Feb 17 15:31:31.032591 2020] [rewrite:trace4] [pid 21887] mod_rewrite.c(470): [client xxxx:30398] xxxx - - [myjournal.com/sid#55aa108220f0][rid#55aa10adee00/initial] add subst prefix: index.php/myjournal/api/v1/stats/publishedSubmissions -> /index.php/myjournal/api/v1/stats/publishedSubmissions, referer: https://myjournal.com/stats/publishedSubmissions
[Mon Feb 17 15:31:31.032601 2020] [rewrite:trace1] [pid 21887] mod_rewrite.c(470): [client xxxx:30398] xxxx - - [myjournal.com/sid#55aa108220f0][rid#55aa10adee00/initial] [perdir /var/www/html/journal/] internal redirect with /index.php/myjournal/api/v1/stats/publishedSubmissions [INTERNAL REDIRECT], referer: https://myjournal.com/stats/publishedSubmissions
[Mon Feb 17 15:31:31.032713 2020] [rewrite:trace3] [pid 21887] mod_rewrite.c(470): [client xxxx:30398] xxxx - - [myjournal.com/sid#55aa108220f0][rid#55aa10afa8c0/initial/redir#1] [perdir /var/www/html/journal/] add path info postfix: /var/www/html/journal/index.php -> /var/www/html/journal/index.php/myjournal/api/v1/stats/publishedSubmissions, referer: https://myjournal.com/stats/publishedSubmissions
[Mon Feb 17 15:31:31.032728 2020] [rewrite:trace3] [pid 21887] mod_rewrite.c(470): [client xxxx:30398] xxxx - - [myjournal.com/sid#55aa108220f0][rid#55aa10afa8c0/initial/redir#1] [perdir /var/www/html/journal/] strip per-dir prefix: /var/www/html/journal/index.php/myjournal/api/v1/stats/publishedSubmissions -> index.php/myjournal/api/v1/stats/publishedSubmissions, referer: https://myjournal.com/stats/publishedSubmissions
[Mon Feb 17 15:31:31.032738 2020] [rewrite:trace3] [pid 21887] mod_rewrite.c(470): [client xxxx:30398] xxxx - - [myjournal.com/sid#55aa108220f0][rid#55aa10afa8c0/initial/redir#1] [perdir /var/www/html/journal/] applying pattern '^(.*)$' to uri 'index.php/myjournal/api/v1/stats/publishedSubmissions', referer: https://myjournal.com/stats/publishedSubmissions
[Mon Feb 17 15:31:31.032763 2020] [rewrite:trace4] [pid 21887] mod_rewrite.c(470): [client xxxx:30398] xxxx - - [myjournal.com/sid#55aa108220f0][rid#55aa10afa8c0/initial/redir#1] [perdir /var/www/html/journal/] RewriteCond: input='/index.php/myjournal/api/v1/stats/publishedSubmissions' pattern='/index.php$' => not-matched, referer: https://myjournal.com/stats/publishedSubmissions
[Mon Feb 17 15:31:31.032774 2020] [rewrite:trace3] [pid 21887] mod_rewrite.c(470): [client xxxx:30398] xxxx - - [myjournal.com/sid#55aa108220f0][rid#55aa10afa8c0/initial/redir#1] [perdir /var/www/html/journal/] add path info postfix: /var/www/html/journal/index.php -> /var/www/html/journal/index.php/myjournal/api/v1/stats/publishedSubmissions, referer: https://myjournal.com/stats/publishedSubmissions
[Mon Feb 17 15:31:31.032785 2020] [rewrite:trace3] [pid 21887] mod_rewrite.c(470): [client xxxx:30398] xxxx - - [myjournal.com/sid#55aa108220f0][rid#55aa10afa8c0/initial/redir#1] [perdir /var/www/html/journal/] strip per-dir prefix: /var/www/html/journal/index.php/myjournal/api/v1/stats/publishedSubmissions -> index.php/myjournal/api/v1/stats/publishedSubmissions, referer: https://myjournal.com/stats/publishedSubmissions
[Mon Feb 17 15:31:31.032803 2020] [rewrite:trace3] [pid 21887] mod_rewrite.c(470): [client xxxx:30398] xxxx - - [myjournal.com/sid#55aa108220f0][rid#55aa10afa8c0/initial/redir#1] [perdir /var/www/html/journal/] applying pattern '^(.*)$' to uri 'index.php/myjournal/api/v1/stats/publishedSubmissions', referer: https://myjournal.com/stats/publishedSubmissions
[Mon Feb 17 15:31:31.032818 2020] [rewrite:trace4] [pid 21887] mod_rewrite.c(470): [client xxxx:30398] xxxx - - [myjournal.com/sid#55aa108220f0][rid#55aa10afa8c0/initial/redir#1] [perdir /var/www/html/journal/] RewriteCond: input='/index.php/myjournal/api/v1/stats/publishedSubmissions' pattern='!/index.php' => not-matched, referer: https://myjournal.com/stats/publishedSubmissions
[Mon Feb 17 15:31:31.032829 2020] [rewrite:trace3] [pid 21887] mod_rewrite.c(470): [client xxxx:30398] xxxx - - [myjournal.com/sid#55aa108220f0][rid#55aa10afa8c0/initial/redir#1] [perdir /var/www/html/journal/] add path info postfix: /var/www/html/journal/index.php -> /var/www/html/journal/index.php/myjournal/api/v1/stats/publishedSubmissions, referer: https://myjournal.com/stats/publishedSubmissions
[Mon Feb 17 15:31:31.032841 2020] [rewrite:trace3] [pid 21887] mod_rewrite.c(470): [client xxxx:30398] xxxx - - [myjournal.com/sid#55aa108220f0][rid#55aa10afa8c0/initial/redir#1] [perdir /var/www/html/journal/] strip per-dir prefix: /var/www/html/journal/index.php/myjournal/api/v1/stats/publishedSubmissions -> index.php/myjournal/api/v1/stats/publishedSubmissions, referer: https://myjournal.com/stats/publishedSubmissions
[Mon Feb 17 15:31:31.032852 2020] [rewrite:trace3] [pid 21887] mod_rewrite.c(470): [client xxxx:30398] xxxx - - [myjournal.com/sid#55aa108220f0][rid#55aa10afa8c0/initial/redir#1] [perdir /var/www/html/journal/] applying pattern '^myjournal(.*)$' to uri 'index.php/myjournal/api/v1/stats/publishedSubmissions', referer: https://myjournal.com/stats/publishedSubmissions
[Mon Feb 17 15:31:31.032864 2020] [rewrite:trace1] [pid 21887] mod_rewrite.c(470): [client xxxx:30398] xxxx - - [myjournal.com/sid#55aa108220f0][rid#55aa10afa8c0/initial/redir#1] [perdir /var/www/html/journal/] pass through /var/www/html/journal/index.php, referer: https://myjournal.com/stats/publishedSubmissions
[Mon Feb 17 15:31:31.033064 2020] [rewrite:trace3] [pid 21887] mod_rewrite.c(470): [client xxxx:30398] xxxx - - [myjournal.com/sid#55aa108220f0][rid#55aa10aee5a0/subreq] [perdir /var/www/html/journal/] add path info postfix: /var/www/html/journal/myjournal -> /var/www/html/journal/myjournal/api/v1/stats/publishedSubmissions, referer: https://myjournal.com/stats/publishedSubmissions
[Mon Feb 17 15:31:31.033088 2020] [rewrite:trace3] [pid 21887] mod_rewrite.c(470): [client xxxx:30398] xxxx - - [myjournal.com/sid#55aa108220f0][rid#55aa10aee5a0/subreq] [perdir /var/www/html/journal/] strip per-dir prefix: /var/www/html/journal/myjournal/api/v1/stats/publishedSubmissions -> myjournal/api/v1/stats/publishedSubmissions, referer: https://myjournal.com/stats/publishedSubmissions
[Mon Feb 17 15:31:31.033099 2020] [rewrite:trace3] [pid 21887] mod_rewrite.c(470): [client xxxx:30398] xxxx - - [myjournal.com/sid#55aa108220f0][rid#55aa10aee5a0/subreq] [perdir /var/www/html/journal/] applying pattern '^(.*)$' to uri 'myjournal/api/v1/stats/publishedSubmissions', referer: https://myjournal.com/stats/publishedSubmissions
[Mon Feb 17 15:31:31.033146 2020] [rewrite:trace4] [pid 21887] mod_rewrite.c(470): [client xxxx:30398] xxxx - - [myjournal.com/sid#55aa108220f0][rid#55aa10aee5a0/subreq] [perdir /var/www/html/journal/] RewriteCond: input='/myjournal/api/v1/stats/publishedSubmissions' pattern='/index.php$' => not-matched, referer: https://myjournal.com/stats/publishedSubmissions
[Mon Feb 17 15:31:31.033158 2020] [rewrite:trace3] [pid 21887] mod_rewrite.c(470): [client xxxx:30398] xxxx - - [myjournal.com/sid#55aa108220f0][rid#55aa10aee5a0/subreq] [perdir /var/www/html/journal/] add path info postfix: /var/www/html/journal/myjournal -> /var/www/html/journal/myjournal/api/v1/stats/publishedSubmissions, referer: https://myjournal.com/stats/publishedSubmissions
[Mon Feb 17 15:31:31.033168 2020] [rewrite:trace3] [pid 21887] mod_rewrite.c(470): [client xxxx:30398] xxxx - - [myjournal.com/sid#55aa108220f0][rid#55aa10aee5a0/subreq] [perdir /var/www/html/journal/] strip per-dir prefix: /var/www/html/journal/myjournal/api/v1/stats/publishedSubmissions -> myjournal/api/v1/stats/publishedSubmissions, referer: https://myjournal.com/stats/publishedSubmissions
[Mon Feb 17 15:31:31.033178 2020] [rewrite:trace3] [pid 21887] mod_rewrite.c(470): [client xxxx:30398] xxxx - - [myjournal.com/sid#55aa108220f0][rid#55aa10aee5a0/subreq] [perdir /var/www/html/journal/] applying pattern '^(.*)$' to uri 'myjournal/api/v1/stats/publishedSubmissions', referer: https://myjournal.com/stats/publishedSubmissions
[Mon Feb 17 15:31:31.033191 2020] [rewrite:trace4] [pid 21887] mod_rewrite.c(470): [client xxxx:30398] xxxx - - [myjournal.com/sid#55aa108220f0][rid#55aa10aee5a0/subreq] [perdir /var/www/html/journal/] RewriteCond: input='/myjournal/api/v1/stats/publishedSubmissions' pattern='!/index.php' => matched, referer: https://myjournal.com/stats/publishedSubmissions
[Mon Feb 17 15:31:31.033202 2020] [rewrite:trace4] [pid 21887] mod_rewrite.c(470): [client xxxx:30398] xxxx - - [myjournal.com/sid#55aa108220f0][rid#55aa10aee5a0/subreq] [perdir /var/www/html/journal/] RewriteCond: input='/myjournal/api/v1/stats/publishedSubmissions' pattern='!/myjournal/' => not-matched, referer: https://myjournal.com/stats/publishedSubmissions
[Mon Feb 17 15:31:31.033212 2020] [rewrite:trace3] [pid 21887] mod_rewrite.c(470): [client xxxx:30398] xxxx - - [myjournal.com/sid#55aa108220f0][rid#55aa10aee5a0/subreq] [perdir /var/www/html/journal/] add path info postfix: /var/www/html/journal/myjournal -> /var/www/html/journal/myjournal/api/v1/stats/publishedSubmissions, referer: https://myjournal.com/stats/publishedSubmissions
[Mon Feb 17 15:31:31.033222 2020] [rewrite:trace3] [pid 21887] mod_rewrite.c(470): [client xxxx:30398] xxxx - - [myjournal.com/sid#55aa108220f0][rid#55aa10aee5a0/subreq] [perdir /var/www/html/journal/] strip per-dir prefix: /var/www/html/journal/myjournal/api/v1/stats/publishedSubmissions -> myjournal/api/v1/stats/publishedSubmissions, referer: https://myjournal.com/stats/publishedSubmissions
[Mon Feb 17 15:31:31.033238 2020] [rewrite:trace3] [pid 21887] mod_rewrite.c(470): [client xxxx:30398] xxxx - - [myjournal.com/sid#55aa108220f0][rid#55aa10aee5a0/subreq] [perdir /var/www/html/journal/] applying pattern '^myjournal(.*)$' to uri 'myjournal/api/v1/stats/publishedSubmissions', referer: https://myjournal.com/stats/publishedSubmissions
[Mon Feb 17 15:31:31.033251 2020] [rewrite:trace4] [pid 21887] mod_rewrite.c(470): [client xxxx:30398] xxxx - - [myjournal.com/sid#55aa108220f0][rid#55aa10aee5a0/subreq] [perdir /var/www/html/journal/] RewriteCond: input='/myjournal/api/v1/stats/publishedSubmissions' pattern='!/index.php' => matched, referer: https://myjournal.com/stats/publishedSubmissions
[Mon Feb 17 15:31:31.033263 2020] [rewrite:trace4] [pid 21887] mod_rewrite.c(470): [client xxxx:30398] xxxx - - [myjournal.com/sid#55aa108220f0][rid#55aa10aee5a0/subreq] [perdir /var/www/html/journal/] RewriteCond: input='/myjournal/api/v1/stats/publishedSubmissions' pattern='/myjournal/' => matched, referer: https://myjournal.com/stats/publishedSubmissions
[Mon Feb 17 15:31:31.033279 2020] [rewrite:trace4] [pid 21887] mod_rewrite.c(470): [client xxxx:30398] xxxx - - [myjournal.com/sid#55aa108220f0][rid#55aa10aee5a0/subreq] [perdir /var/www/html/journal/] RewriteCond: input='/var/www/html/journal/myjournal/api/v1/stats/publishedSubmissions' pattern='!-f' => matched, referer: https://myjournal.com/stats/publishedSubmissions
[Mon Feb 17 15:31:31.033290 2020] [rewrite:trace2] [pid 21887] mod_rewrite.c(470): [client xxxx:30398] xxxx - - [myjournal.com/sid#55aa108220f0][rid#55aa10aee5a0/subreq] [perdir /var/www/html/journal/] rewrite 'myjournal/api/v1/stats/publishedSubmissions' -> 'index.php/myjournal/api/v1/stats/publishedSubmissions', referer: https://myjournal.com/stats/publishedSubmissions
[Mon Feb 17 15:31:31.033302 2020] [rewrite:trace3] [pid 21887] mod_rewrite.c(470): [client xxxx:30398] xxxx - - [myjournal.com/sid#55aa108220f0][rid#55aa10aee5a0/subreq] [perdir /var/www/html/journal/] add per-dir prefix: index.php/myjournal/api/v1/stats/publishedSubmissions -> /var/www/html/journal/index.php/myjournal/api/v1/stats/publishedSubmissions, referer: https://myjournal.com/stats/publishedSubmissions
[Mon Feb 17 15:31:31.033313 2020] [rewrite:trace2] [pid 21887] mod_rewrite.c(470): [client xxxx:30398] xxxx - - [myjournal.com/sid#55aa108220f0][rid#55aa10aee5a0/subreq] [perdir /var/www/html/journal/] trying to replace prefix /var/www/html/journal/ with /, referer: https://myjournal.com/stats/publishedSubmissions
[Mon Feb 17 15:31:31.033324 2020] [rewrite:trace5] [pid 21887] mod_rewrite.c(470): [client xxxx:30398] xxxx - - [myjournal.com/sid#55aa108220f0][rid#55aa10aee5a0/subreq] strip matching prefix: /var/www/html/journal/index.php/myjournal/api/v1/stats/publishedSubmissions -> index.php/myjournal/api/v1/stats/publishedSubmissions, referer: https://myjournal.com/stats/publishedSubmissions
[Mon Feb 17 15:31:31.033334 2020] [rewrite:trace4] [pid 21887] mod_rewrite.c(470): [client xxxx:30398] xxxx - - [myjournal.com/sid#55aa108220f0][rid#55aa10aee5a0/subreq] add subst prefix: index.php/myjournal/api/v1/stats/publishedSubmissions -> /index.php/myjournal/api/v1/stats/publishedSubmissions, referer: https://myjournal.com/stats/publishedSubmissions
[Mon Feb 17 15:31:31.033344 2020] [rewrite:trace1] [pid 21887] mod_rewrite.c(470): [client xxxx:30398] xxxx - - [myjournal.com/sid#55aa108220f0][rid#55aa10aee5a0/subreq] [perdir /var/www/html/journal/] internal redirect with /index.php/myjournal/api/v1/stats/publishedSubmissions [INTERNAL REDIRECT], referer: https://myjournal.com/stats/publishedSubmissions
[Mon Feb 17 15:31:31.144305 2020] [php7:notice] [pid 21887] [client xxxx:30398] ojs2: 404 Not Found, referer: https://myjournal.com/stats/publishedSubmissions