How to Install ReCAPTCHA in OJS 3.1.1-4
thankyou
Hi @luismurillo
Google recaptcha is built-in on OJS 3.1.1-4. To enabled it you need set recaptcha parameter to On in config.inc.php file and add your pub and secret keys parameters for your domain registered in Google Recaptcha Tool.
;;;;;;;;;;;;;;;;;;;;
; Captcha Settings ;
;;;;;;;;;;;;;;;;;;;;

[captcha]

; Whether or not to enable ReCaptcha
recaptcha = on

; Public key for reCaptcha (see http://www.google.com/recaptcha)
recaptcha_public_key = your_public_key

; Private key for reCaptcha (see http://www.google.com/recaptcha)
recaptcha_private_key = your_private_key

Best,
Israel
thank you,but not working
I activate captcha, recaptcha on, public and private key and i cant see the reCAPTCHA in the login
Have you cleared your OJS cache ?
Administration > Clear template cache
Best,
Israel
I´m sorry, it is working well on register user. thanks !!!
Can I use reCAPTCHA por login access?
thank you very much for the information
@israel.cefrin i installed reCaptcha but see screenshot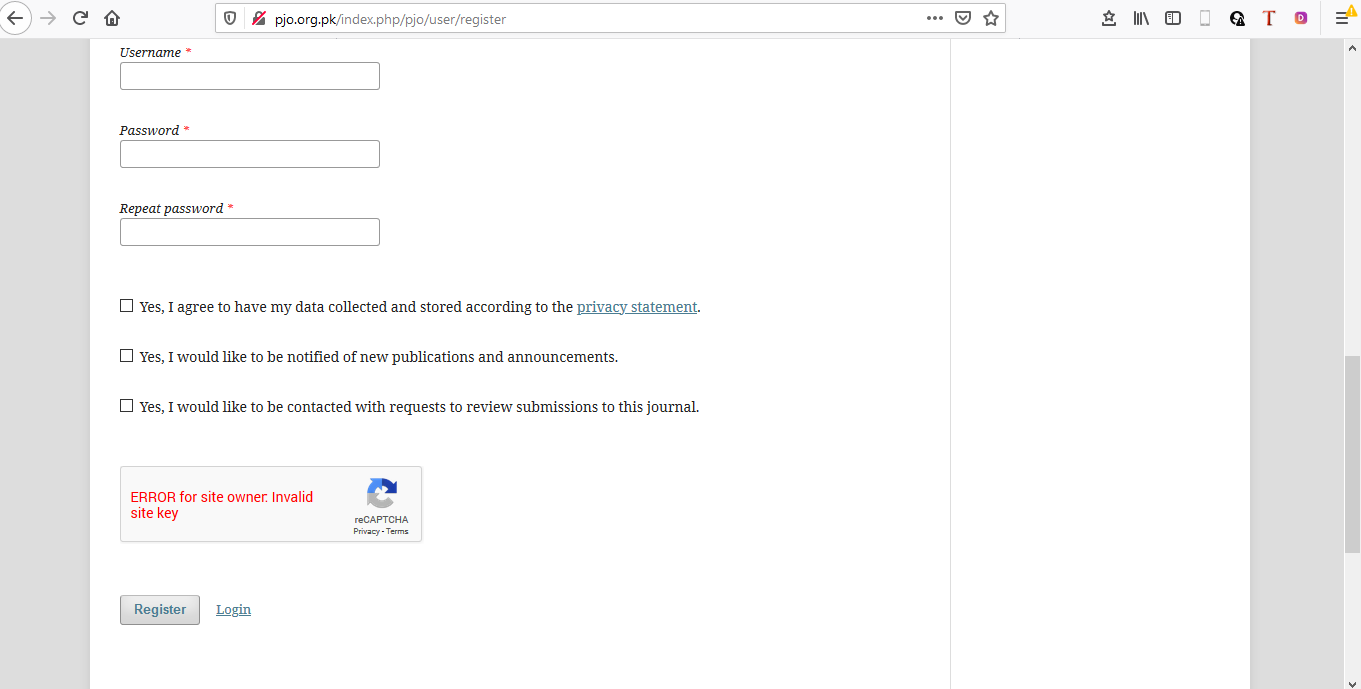 Please guide accordingly.
Regards
It is required that you add your domain on the https://www.google.com/recaptcha/ and copy the public and secret key from this online tool into your config.inc.php section.
Best,
Israel
Thanks but i already added these key in config file but same error. Screenshot attached

Please guide.
Have you added correclty your journal domain to Google Recaptcha and cleared OJS cache also after the config.inc.php changing?
Best,
Israel
I dont know if this problem could be related with the version por the captcha. V2 or V3.
@luismurillo thanks i was uusing v3 now using v2 working perfect.